While we say goodbye to the last of the spring blossom, May doesn't disappoint outside. Hedgerows spill over in abundance with frothy cow parsley and fresh green leaves, while seasonal showstoppers take centre stage in the garden, including peonies, wisteria and alliums. Summer is most definitely in our sights.
This month also hosts No Mow May, a campaign which encourages gardeners to let their lawn grow wild to support pollinators. Since the 1930s Britain has reportedly lost 7.5 millions acres of meadows and pastures. Now, just 1% of our countryside offers this flower-rich experience for pollinators and insects.
Read on for what's in season in May, plus plenty of inspiration to help you slow down and make the most of this month.
What Produce is in Season? Fruits and Vegetables in Season in May
In terms of seasonal eating in May, we can look forward to the crisp, fresh flavours of peas and asparagus, plus spring onions, watercress and Jersey Royal new potatoes. Rhubarb season is also in full swing this month, growing quickly and in abundance.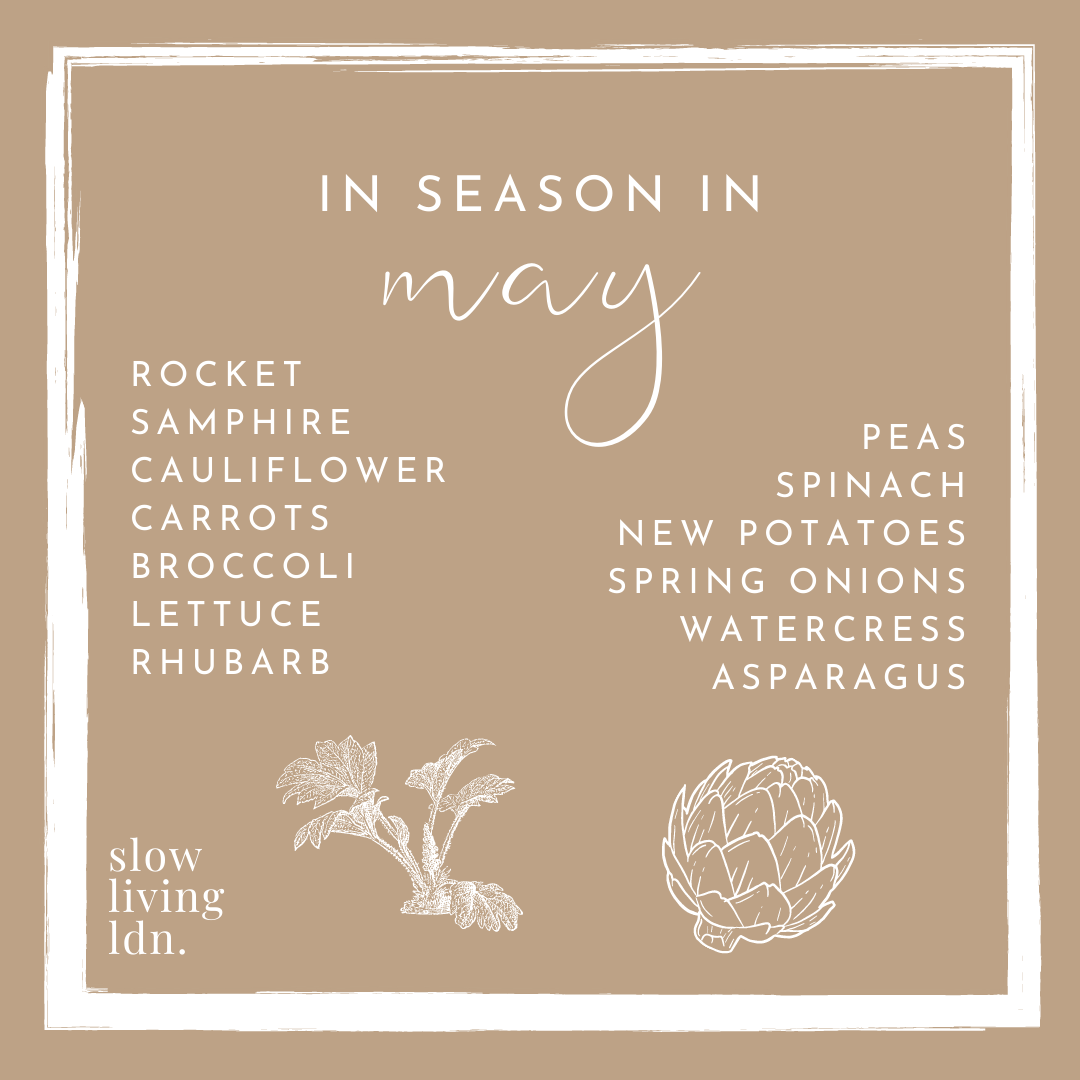 May recipe inspiration: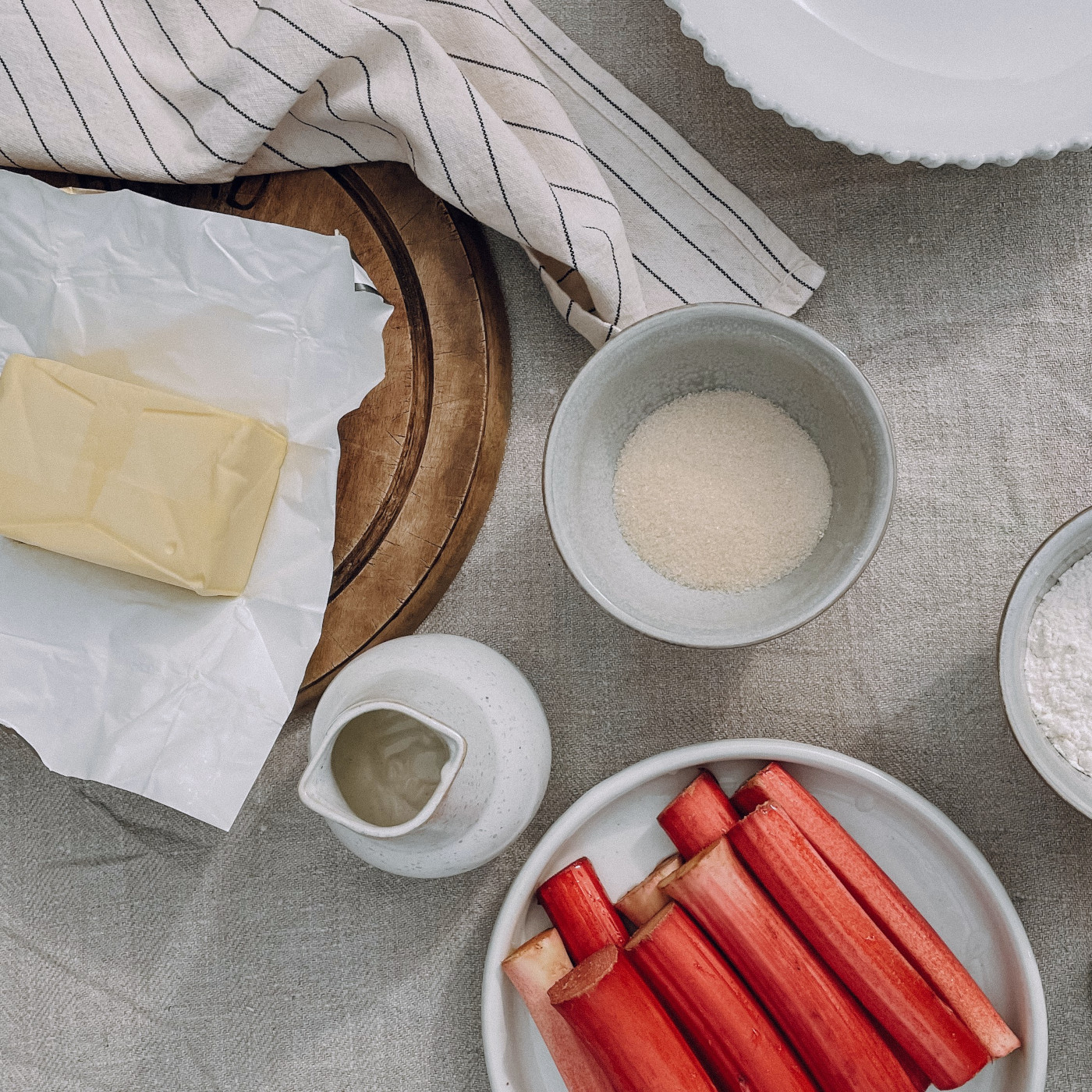 Seasonal Spotlight: Rhubarb
Forced rhubarb (grown in the dark under pots) arrives early in the year, while maincrop rhubarb, which is grown outdoors, is in abundance by May. The thick green or reddish stalks are a seasonal treat, but avoid the large leaves which are poisonous.
Rhubarb is particularly tart and is best enjoyed stewed with sugar. It's delicious with yoghurt on breakfast granola, pairs well with ginger, and is a great base for many desserts.
You can easily stew rhubarb with a couple of tablespoons of water or orange juice and enough sugar depending on the quantity of rhubarb stalks – usually around a third/quarter of the amount of rhubarb. Bring the sugar, water (or orange juice) and chopped rhubarb to the boil and then allow to simmer on a medium heat until completely softened (around ten minutes). For syrup (delicious in cocktails), strain the mixture through a sieve.
Seasonal Flowers and Planting in May
In May, gardeners will be spending time tending to seedlings, planting out dahlia tubers, and much more. It's also time to sow courgette, broccoli, carrot, squash and beetroot seeds.
This month, there are many more seasonal flowers in bloom, including alliums, peonies, cornflowers, Solomon's seal, ranunculus and lilac. It's a particularly purple month with bluebells also putting on a show in early May.
Slow, Seasonal Living this Month
Many of the most beautiful parts of every month and season are fleeting. These short-lived seasonal highlights encourage us to slow down and make the most of them in that moment. Bluebells are one of those highlights that are absolutely worth making time to visit if you're lucky enough to live nearby.
If you're in London, you can get your floral fix during 23rd-28th May when the streets of Chelsea transform with floral art installations for #ChelseaInBloom.
For more inspiration, head to our guide on how to slow down and find out more about the history of the slow food movement, or visit our May Pinterest board:
For more inspiration around slow living with the seasons, read our guides to slow gardening, slow flowers and slow food. You may also like our list of the best seasonal recipe books.