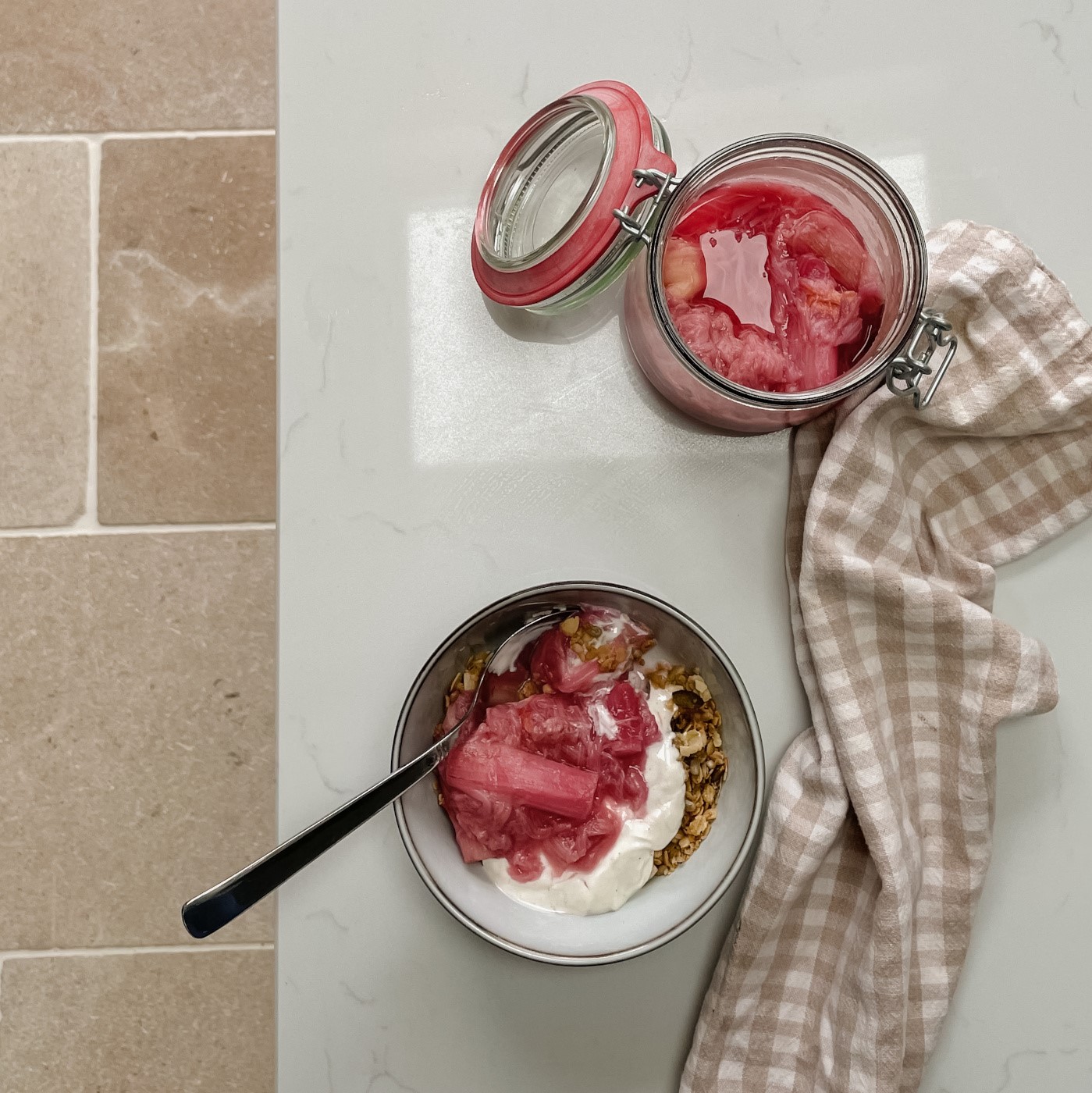 A rather nostalgic ingredient, rhubarb reminds us of classic boiled sweets and steaming bowls of crumble. Forced rhubarb, only available for a fleeting few weeks of the year, is a slow food highlight which bridges the gap between winter and spring. While eaten as a fruit and generally sweetened with sugar, rhubarb is technically a stem vegetable. All the same, when stewed correctly, rhubarb is a delicious addition to many desserts and breakfasts. Below you'll find a simple recipe for stewed rhubarb and little more about the historic tradition of forcing rhubarb in the UK.
What's the difference between forced rhubarb and maincrop rhubarb?
Forced rhubarb is produced in the so-called 'Rhubarb Triangle' in Yorkshire. The points of the triangle are broadly Wakefield, Morley and Rothwell, making up an area of nine-square-miles. Due to the unique growing process, forced rhubarb boasts pinker, sweeter stems than maincrop rhubarb, which is grown outdoors and available later, from late March to April. Forced rhubarb is altogether more delicate and has long been a sought-after ingredient when choice is in short supply during the late winter months. Maincrop rhubarb is more bitter, with thicker, tougher stalks that are tinged with green. It grows prolifically with large leaves, while the delicate stems of forced rhubarb are thinner, and the leaves are very small and pale.
Rhubarb cuttings, taken from mature plants, establish themselves outdoors for two years before being brought indoors within 'forcing sheds'. Here, the rhubarb is grown in the dark, but exposed to heat, which causes the plant to grow rapidly in search of light. Rhubarb thrives on the nitrogen-rich soil and damp, cold climate of Yorkshire. Importantly, the 'Rhubarb Triangle', located in the shadow of the Pennines, is also a frost pocket. Exposure to frost is essential to help toughen the roots before the plants are moved inside. Rather romantically, although it's said to be a gruelling job in reality, forced rhubarb is harvested by candlelight and by hand. Any exposure to light could endanger the sweeter taste.
Despite there once being around two hundred growers towards the end of the 19th century, Slow Food UK reports there to be only around 12 growers remaining in the Triangle. In 2010, Yorkshire forced rhubarb gained protected food name status (European Protected Designation of Origin or PDO), which has been retained post-Brexit by the UK Geographical Indication. Due to the specific local soil conditions, the period of outdoor root formation is significantly less than in other locations. This takes around two years in the Yorkshire Rhubarb Triangle, and up to four to six years elsewhere. The process of forcing rhubarb was accidentally discovered in Chelsea Physic Garden in 1817, before arriving in Yorkshire in 1877, where the world's first forcing sheds were established.
When is rhubarb in season in the UK?
Forced rhubarb season runs from around January to the end of March.
Maincrop rhubarb season runs from around late March to June.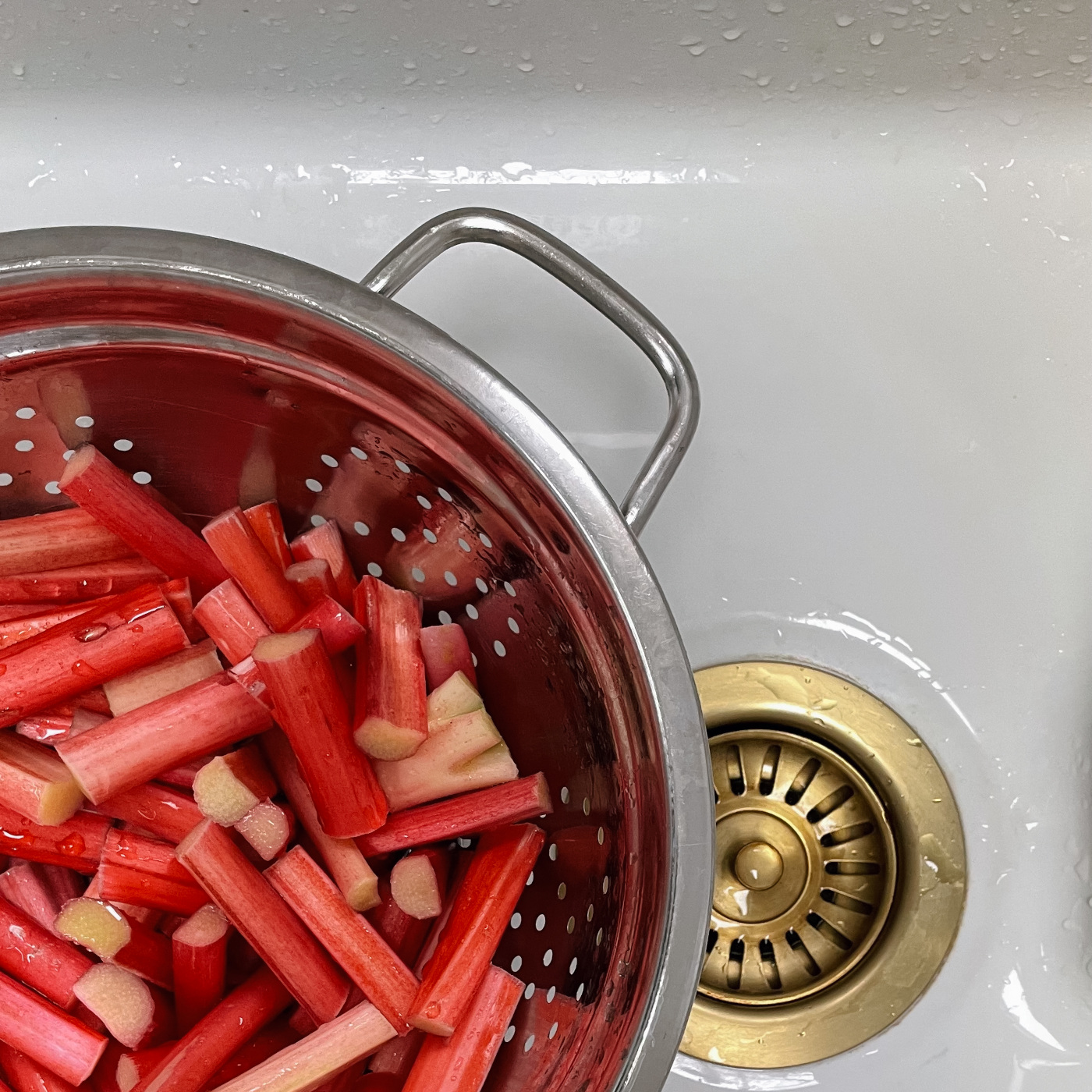 How to use stewed rhubarb
Stewed rhubarb is so versatile. We love to make a big jar on Sundays to enjoy through the week. In the winter months, forced rhubarb is a cheerful, colourful addition to grey mornings. Try it with vanilla yoghurt and granola, or heap it onto a bowl of porridge. Dollop onto ice cream, or use it to top scones for a twist on a classic afternoon tea.
An added bonus of stewing rhubarb is the sweet pink liquid that accompanies it. Pour the stewed rhubarb through a sieve, or gently remove the rhubarb from the pan, retaining the liquid. Return the pan to the hob and turn up the heat to medium-high. Simmer to reduce the liquid until it thickens to a syrupy consistency. Using forced rhubarb creates the pinkest syrup. This can then be used to create attractive seasonal cocktails with an ombre effect, such as bellinis, G&Ts and mojitos.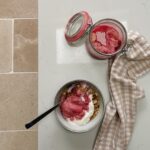 Stewed rhubarb recipe
How to stew rhubarb to create a delicious compote for breakfasts and desserts.
Ingredients
500

g

rhubarb

(cut into pieces 1-2 inches long)

75-100

g

golden caster sugar

(depending on preferred sweetness)

1

orange

(zest and juice)
Steps
Put the chopped rhubarb into a large pan with the sugar, orange juice, orange zest and a splash of water.

Bring to the boil then simmer over a low-medium heat until the rhubarb has softened, but still holds its shape. This should take up to ten minutes.
Recipe Notes
If you don't have an orange to hand, you can stew rhubarb without it. Just add a little more water, and add extra sugar to taste.
If stewing forced rhubarb, the thinner stalks may cook more quickly. Check them regularly to avoid overcooking.
Rhubarb leaves are poisonous, so be sure to carefully remove and discard them.
---
Read more