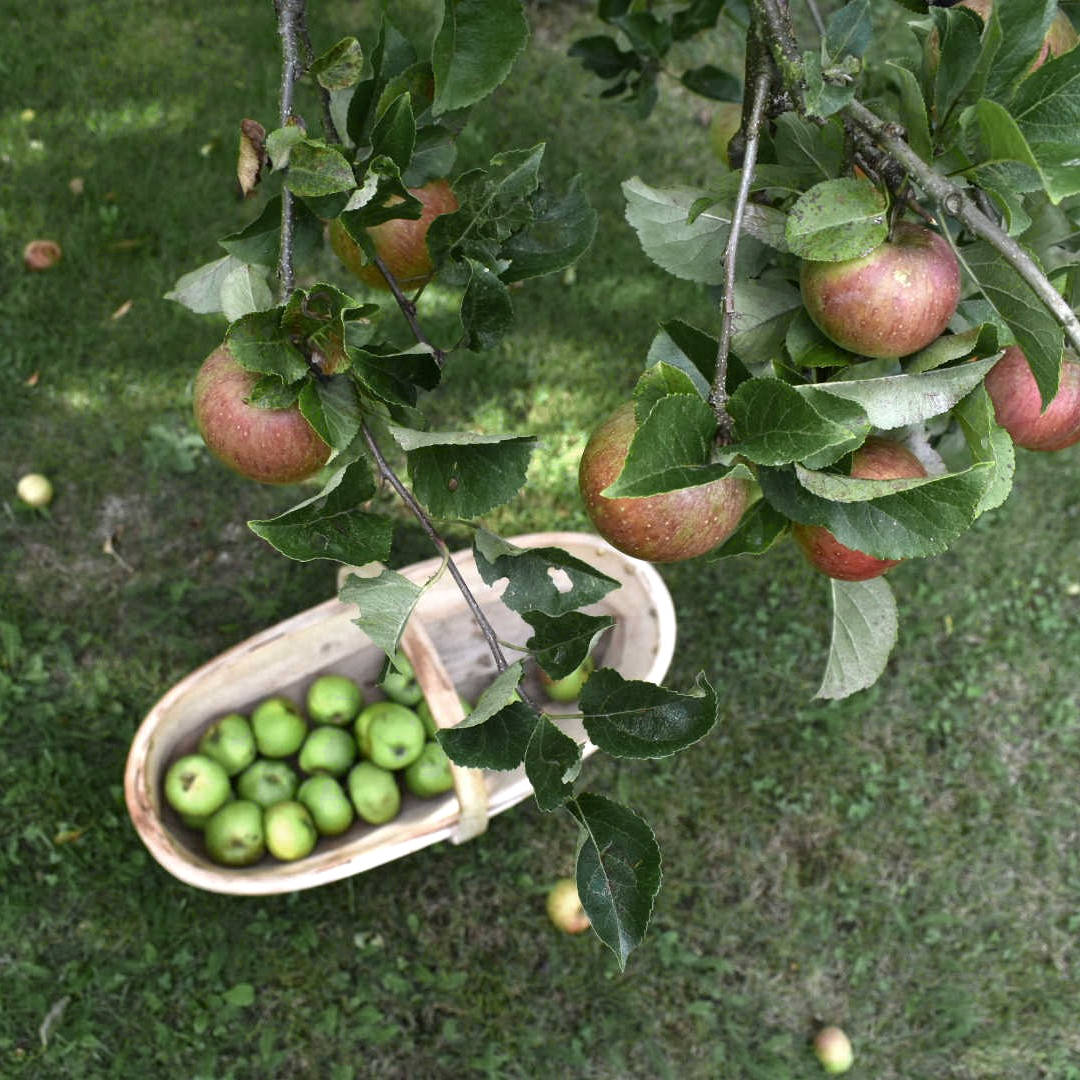 By late August and early September, it's hard to avoid talk of autumn and its cosy knits and comforting meals. But let's not fast forward too quickly. The autumn equinox, the astronomical transition between the seasons, actually takes place on 23rd September. That means for most of September we're still enjoying lighter evenings, an abundance of British produce and lingering late summer flowers. In the garden, sunflowers, verbena bonariensis, dahlias, Japanese anemones and cosmos offer a final burst of summer colour.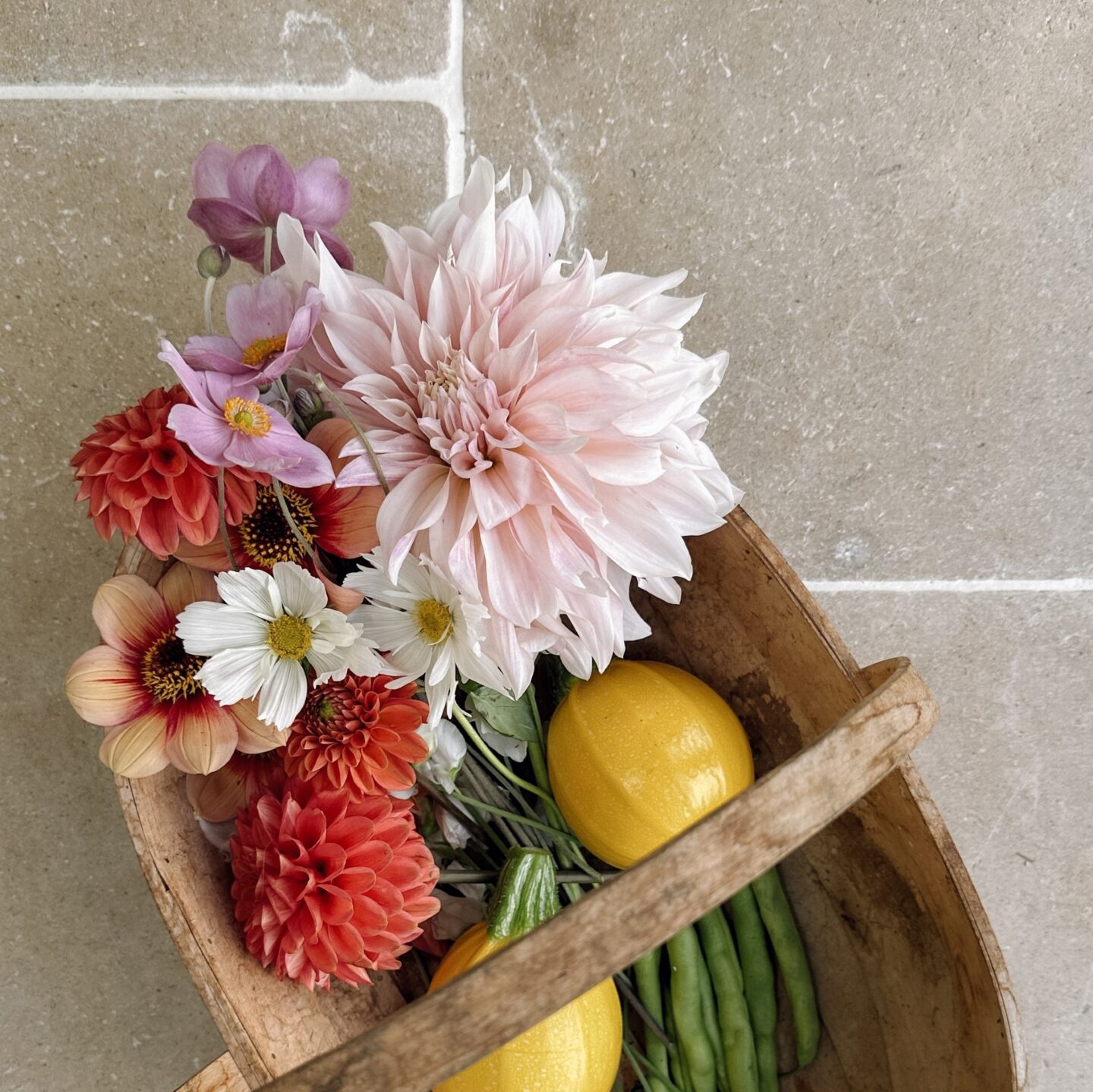 Even if your school days are long behind you, it's hard to shake that back to school feeling of a fresh start in September. After summer's easy going spirit of relaxed routines, warmer weather and holidays, September ushers in a sense of returning 'back to business'. We've previously written about harnessing the rejuvenating energy of the summer to set slow intentions in September. It almost feels like January 2.0 or a natural point in the year to reflect and reset.
So, let's allow September to be September. It's one of the easiest (and most enjoyable!) months to live seasonally and more mindfully. There's simply so much to savour before the leaves start changing and the nights draw in.
What produce is in season in September?
September is a highlight in the seasonal eating calendar, with the end of the month coinciding with the traditional harvest season. Squash, blackberries and apples return to the menu which soon inspire comforting crumbles and pies.
It's the end of the summer berry season, but there's still plenty of fresh fruit to enjoy in the UK. Blackberries are in season to take the place of raspberries, while apples and pears are in abundance come late September.
Coming into season in September are also leeks, butternut squash, pumpkins and kale. Aubergines, courgettes, tomatoes and beans continue in September.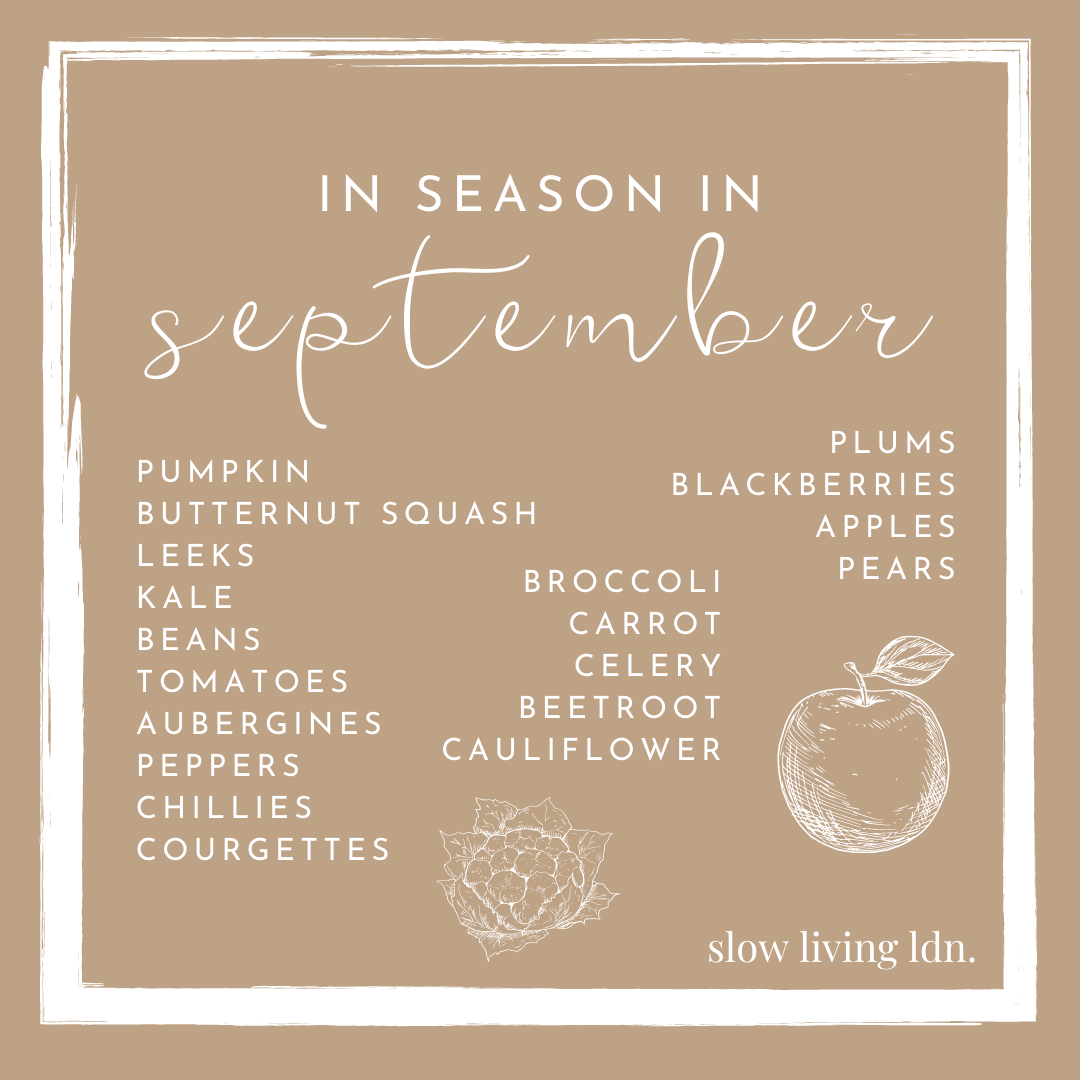 Seasonal recipe inspiration for September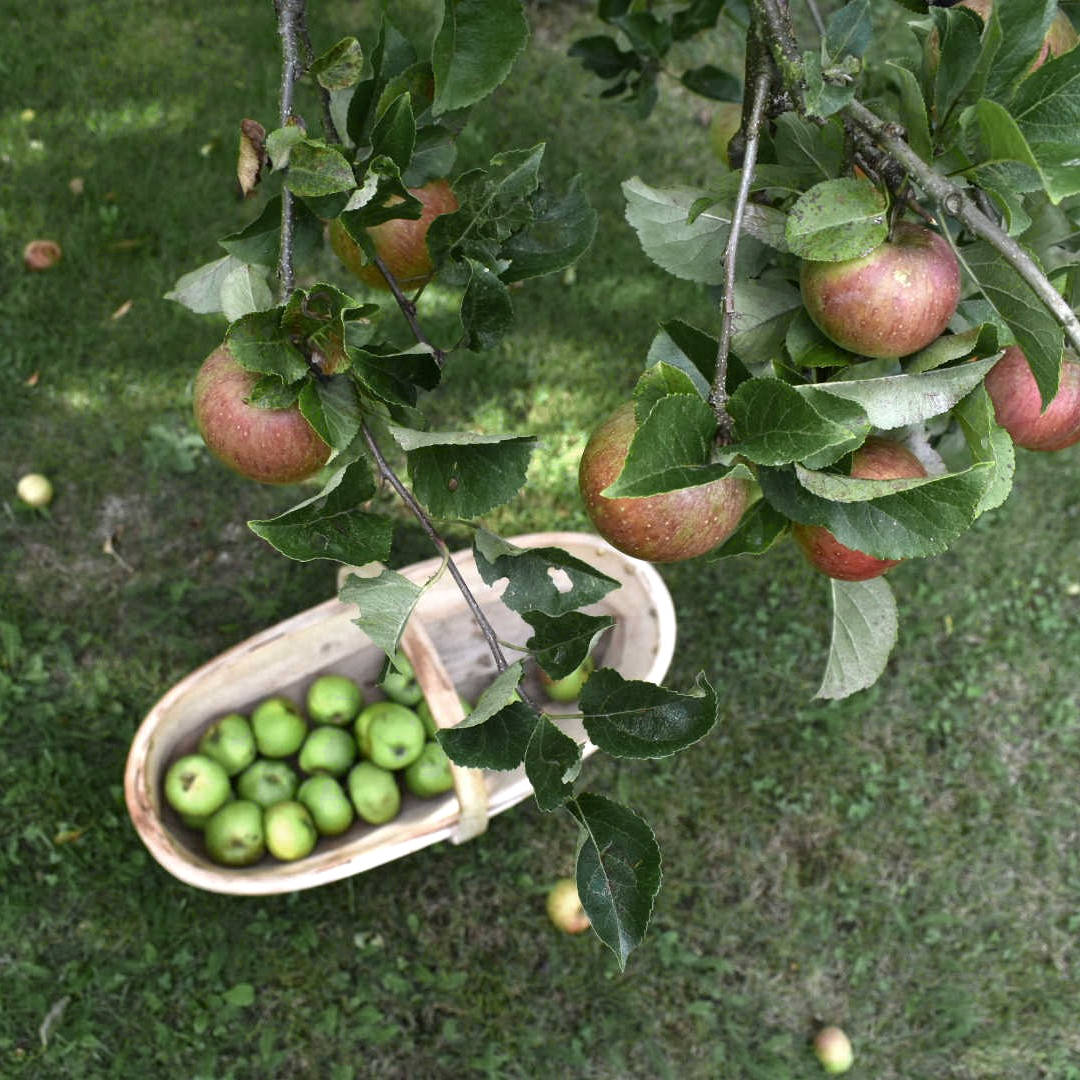 Seasonal spotlight: apples
Needing little introduction, the humble apple is a star come late September. Apples pair especially well with cinnamon and toffee, making them a favourite for hearty, seasonal baking. You'll know if an apple is ripe if you gently push it upwards and the stalk breaks.
If you have an apple tree laden with fruit, why not have the apples pressed into juice? You can often give the bottles a name of your choice, making them great seasonal gifts or contributions to Christmas hampers for foodies.
Seasonal activities and events for September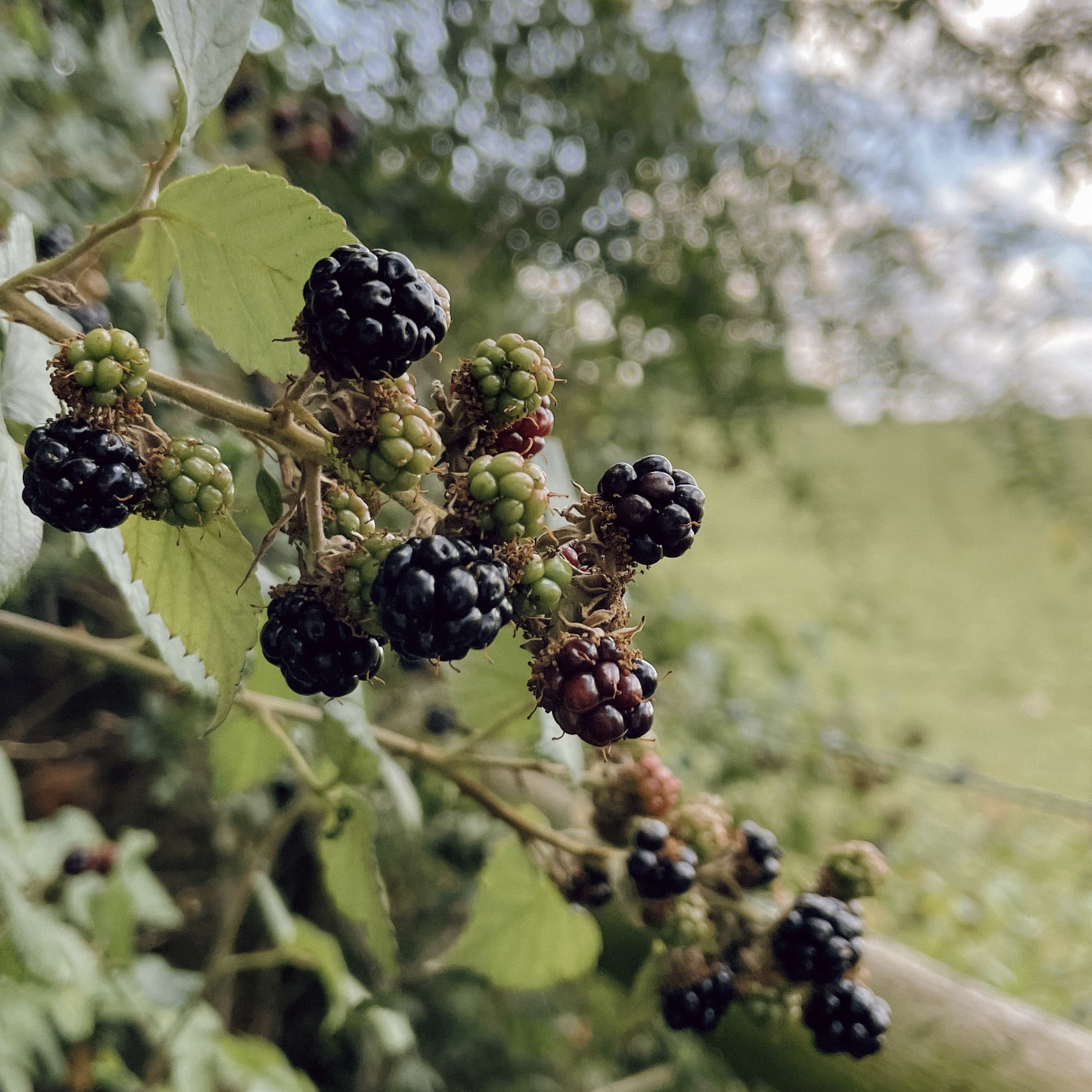 Forage for blackberries for jam or baking
Go sunflower picking in early September
Press the last of the summer flowers
Make the most of eating outdoors
Celebrate British Food Fortnight and learn about Organic September
Head to our September Pinterest board for more inspiration.
British Food Fortnight
British Food Fortnight takes places between the 16th September and 1st October and is run by Love British Food. The fortnight is a national celebration of British produce and aims to foster a 'robust market' for British food, which sees sufficient consumer demand for farmers and producers to continue to invest in domestic food production.
To get involved, Love British Food is encouraging participants to shop locally and seek out British produce on menus when eating out. Past years have seen major supermarkets, pub groups and over a thousand independent shops take part.
Read more about British Food Fortnight.
Organic September
Organic September is a month-long campaign by the Social Association which aims to promote the benefits of buying, growing and eating organic produce, including:
Supporting biodiversity and wildlife
Helping to tackle climate change
The highest standards of animal welfare
Decreased exposure to pesticides
The campaign is an opportunity to learn more about organic agriculture and support local producers, as well as understanding how to champion more sustainable gardening at home. Organic standards ban usage of fossil fuel-based nitrogen fertilisers. The Soil Association reports that if all European countries moved to organic or agroecological food and farming systems, we'd see a 40% drop in emissions. Half of this drop would reportedly come from a reduction in the use of nitrogen fertilisers.
Read more about getting involved with Organic September.
For more inspiration around sustainable eating, read about slow food, at the very heart of the slow living movement, and our guide to conscious consumerism. You may also like our list of the best seasonal recipe books.