Over the past few years, and interestingly somewhat in tandem with the start of the pandemic, online demand for dried flowers has skyrocketed. Once deemed dusty and old-fashioned, reminiscent of bowls of potpourri in bathrooms and hallways, dried flowers have seen their reputation rebloom. From bohemian wedding bouquets to dried floral sculptures and wreaths, dried flowers are no longer confined to a bowl. Alongside drying flowers in 3D, pressing flowers has also returned to the forefront of modern crafting.
Styling your home with the seasons is one of the joys of embracing seasonal living, and turning to dried flowers, and particularly seed heads, can help bring the outdoors in during the colder months. When slow flowers (seasonal and locally produced) can be in shorter supply, dried seed heads and grasses are the perfect alternative. Long-lasting, sculptural and sometimes spiky, dried seed heads add interest and a natural touch to table and shelf styling. If you have your own garden, choosing plants for both their flowers and seed heads can also prolong the visual interest across seasons outside, and create a free, sustainable source of interior décor that mirrors the patterns of nature.
Below, you'll find a list of plants with sculptural seed heads to add drama to garden borders and your favourite vases and vessels.
What is a seed head?
Ever wondered what the real difference is between a flower and a seed head? Collins English Dictionary defines a seed head as "a seed-containing part of some plants that develops after flowering or fruiting". Often very sculptural, seed heads add real interest to the garden, long after a plant has finished flowering. Plus, they offer a vital source of food for wildlife in the colder months. While there are many benefits to leaving seed heads intact outdoors, if you grow an abundance, you'll also have a regular supply to bring indoors and arrange. While it's becoming popular for dried flower sellers to bleach or dye dried flowers, grasses and seed heads, for the most natural, rustic approach, allow foliage to turn a pale brown.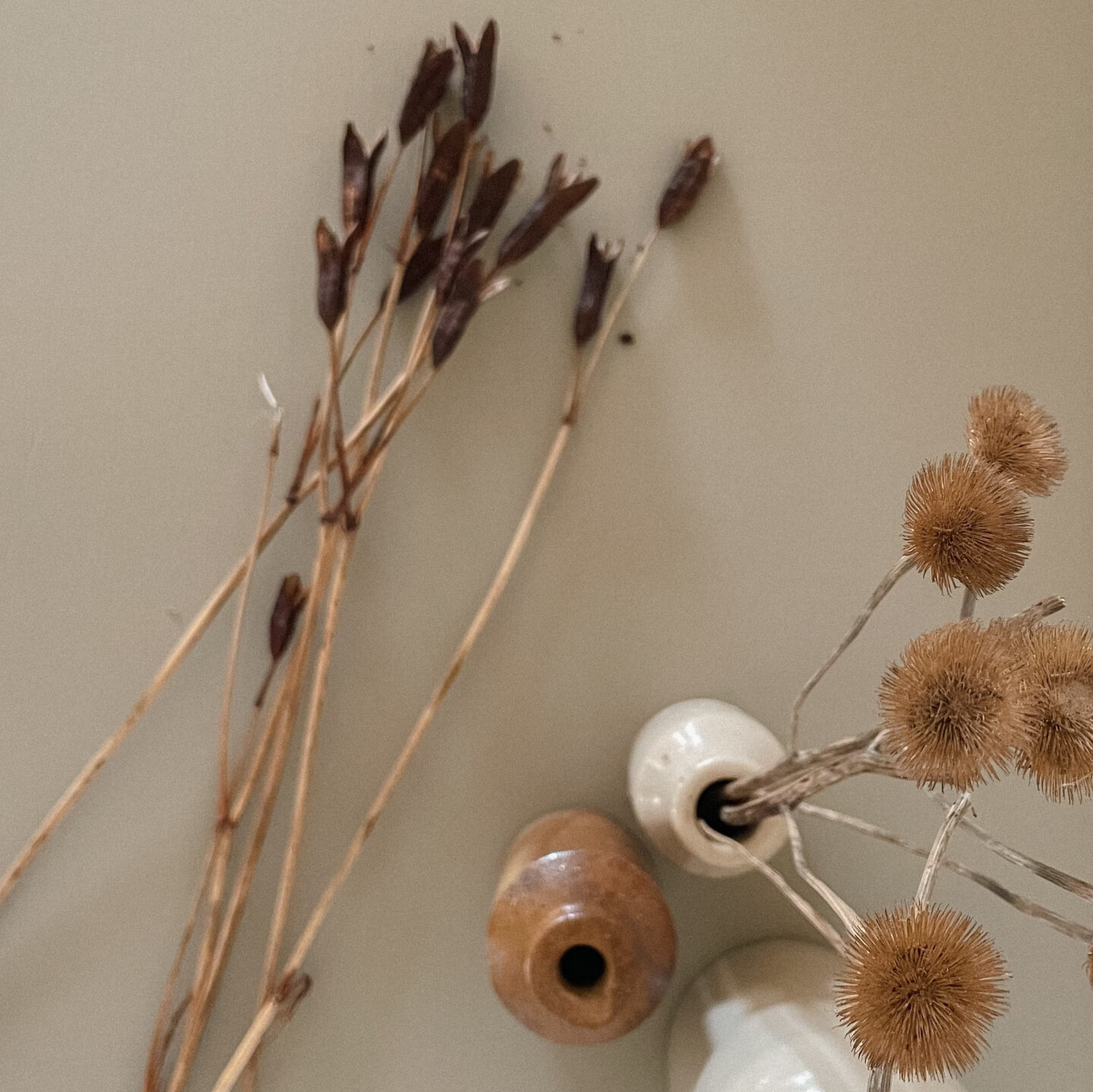 Sculptural dried seed heads to find and forage
Alliums
Hydrangeas
Nigella damascena (love-in-a-mist)
Teasels
Eryngium (sea holly)
Telekia speciosa
Lunaria annua (honesty)
Poppies
Echinops (globe thistle)
For great height, alliums and teasels are ideal choices. Although, take care when handling teasels as they're particularly spiky. Hydrangeas, which look beautiful as they slowly dry out and transform from pastel shades of green, pink and blue to light brown, add size and texture to an arrangement. That said, one singular pom-pom shaped hydrangea seed head can look equally striking in a small vase or vintage glass bottle. Honesty is particularly sought-after, but the tissue paper thin seed heads are also extremely delicate.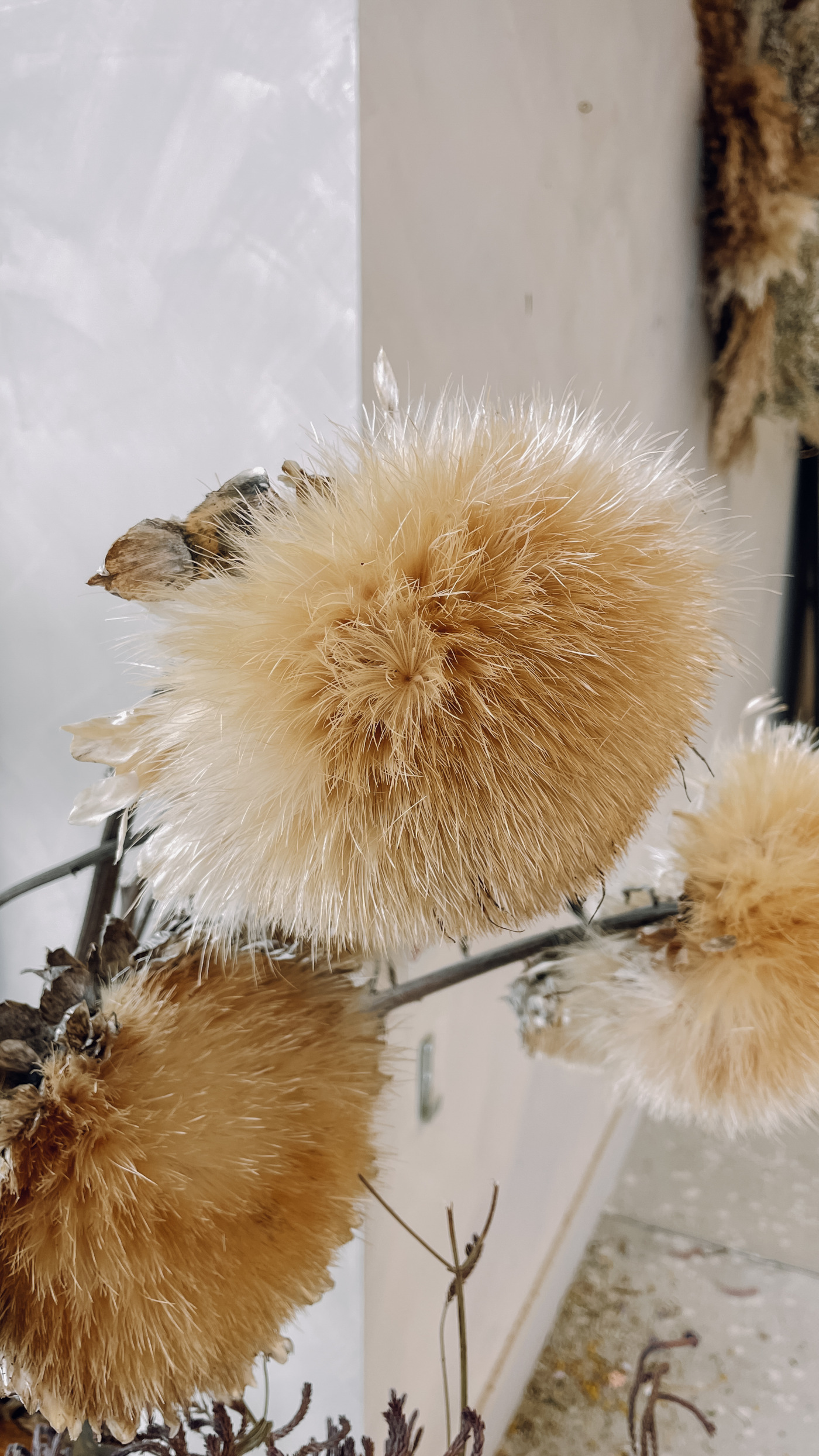 How to care for dried flowers and seed heads
When gathering and harvesting from your own garden, choose a dry day. To accelerate drying, hang small bunches upside down in a warm, dry place, such as an airing cupboard.
For long-lasting dried flowers, grasses and seed heads, keep your arrangement away from direct sunlight and moisture. To clean your arrangement, gently blow dust away using a hairdryer on the lowest setting.
Get inspired:
Read The Modern Flower Press: Preserving the Beauty of Nature by Melissa Richardson and Amy Fielding of JamJar Flowers
Read Modern Dried Flowers: 20 Everlasting Projects to Craft, Style, Keep and Share by Angela Maynard
Our guide to seasonal, slow flowers
How to grow slow: a guide to slow gardening