'Tis the season to be merry as December has arrived, and advent has begun. This month, our thoughts turn to Christmas dinners, mince pies and recipes infused with fragrant spices such as cinnamon, nutmeg and ginger.
The most magical time of year can also be the most frantic. And this year more than ever, we're feeling the pressure to deliver an exceptional Christmas. To embrace slow living this season, take a look at our guide to a slow Christmas.
While you may first think that December is not a month for abundant seasonal produce, you'd be mistaken. There are heaps of heart vegetables on offer this month, although fresh fruit is a little more limited. Looking ahead, December is a good time to plant garlic, onions and broad beans.
December is also a brilliant time to support British producers and discover new favourites. From artisan cheeses to handmade chocolates, don't miss the opportunity to shop small and embrace slow food this December.
What Produce is in Season in December?
The stars of December are the hearty vegetables that accompany our Christmas dinners. Of course that means Brussels sprouts, parsnips, cabbage, cauliflower and carrots. Leek season continues too, running until April. Endlessly versatile, leeks make a delicious addition to pies, risottos, pasta dishes and more. Swede, turnips, kale, potatoes, celery and wild mushrooms are also in season this month.
For more ideas, you may like our list of the best seasonal recipe books.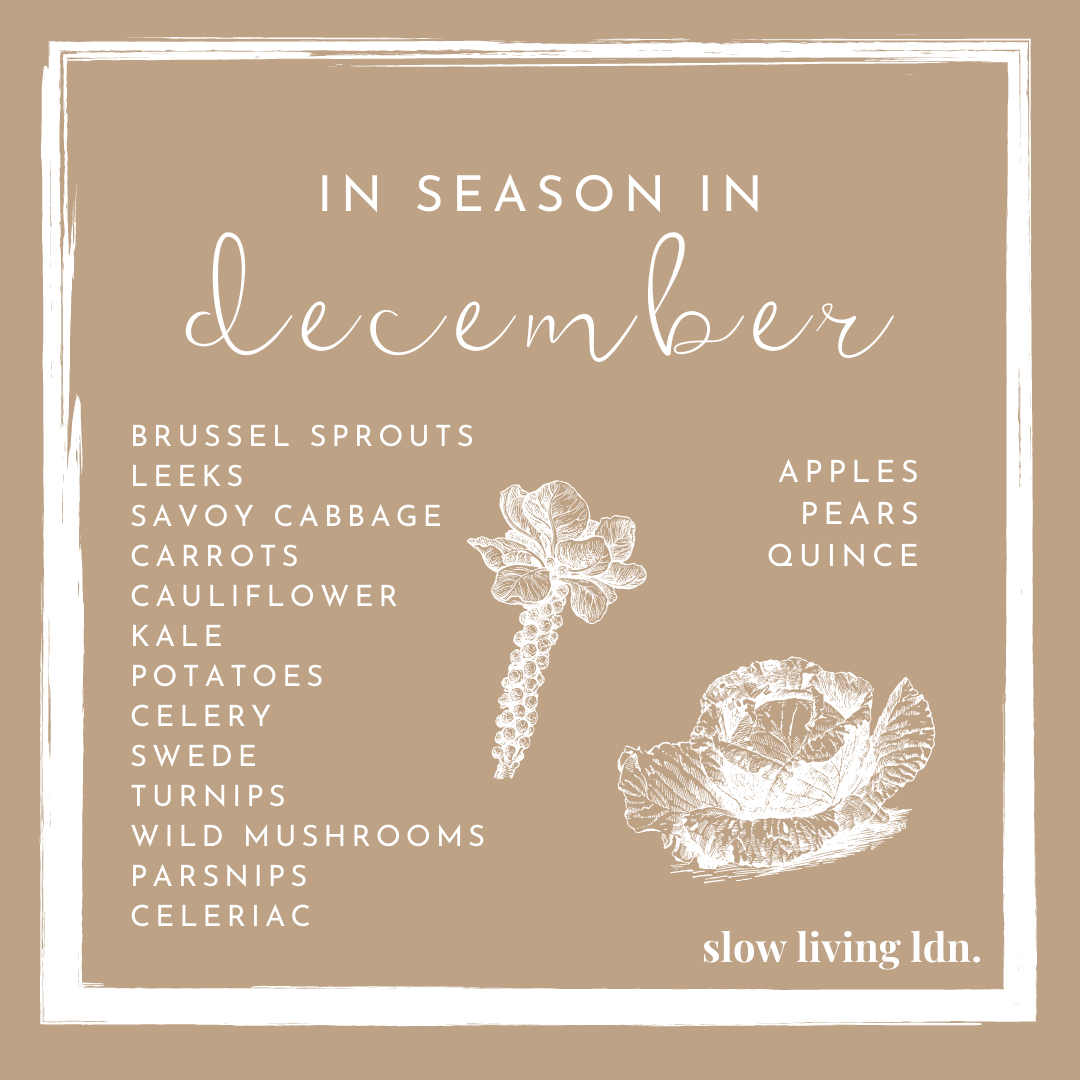 Festive Foliage in Season in December
Decorating with fresh foliage is one of the seasonal joys of December. Whether it's for a wreath, garland or table centrepiece, here are some highlights for festive foliage and plants this month:
Pine
Yew
Box
Ivy (look out for the variegated varieties)
Holly
Pine cones
Winter berries
Eucalyptus
Rose hips from dog roses
Christmas Rose (Helleborus niger) – this hellebore is one of the first to flower over winter. Typically, it flowers from January but it can be as early as Christmas.