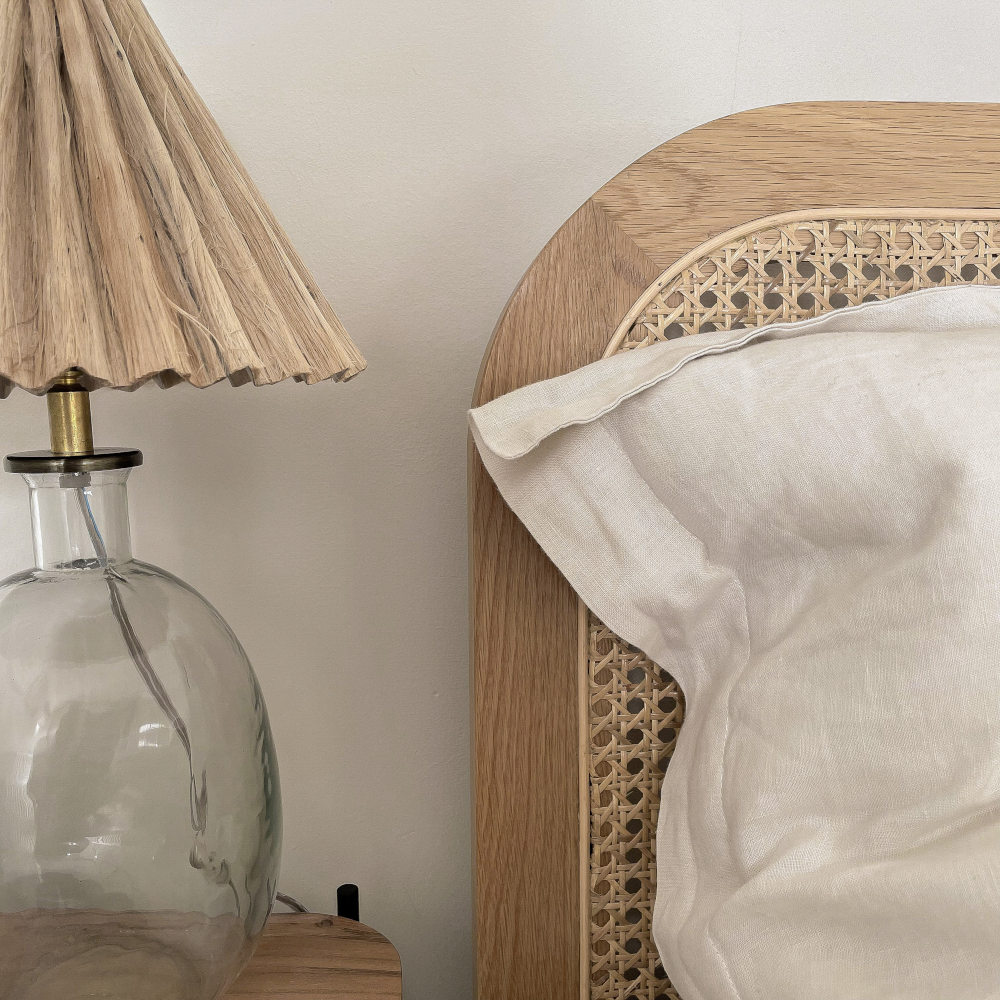 Our homes are where we rest, recharge and be our complete selves. And over the past couple of years, we've asked a lot of them. Our homes have morphed into classrooms, offices and home gyms. Our homes need to be our sanctuaries, but so often they feel more chaotic than calm. In her book Calm, interior stylist Sally Denning explains, "our physical surroundings have a direct correlation with the way that we feel and make an important contribution to our emotional well-being."
Whether you're hoping to quiet the visual noise in your home, or curate a space to help you slow down, you're in the right place. Below, you'll find tips and insight around how to create a calm home, filled with relaxing rooms that support your well-being. Through our own hands-on renovation experience and advice gathered from interiors books and interviews with stylists and interiors gurus, we've collected a number of useful techniques for creating calm at home.
Decorating for Calm: Tips and Ideas for a Tranquil Home
Before we dive in, it's worth remembering one very important point: what's calming to you may not be calming to others. And a calm interior you see on Instagram or Pinterest may look like an oasis of tranquility, but it might not work with the style of your home or its natural lighting and orientation. Creating a relaxing space is therefore highly personal to you, your lifestyle and your home, and it's definitely not as easy as painting everything a shade of neutral. In fact, for some, that's quite the opposite of their idea of calm.
Choosing a Calm Colour Palette
For many, neutral shades, especially those found in nature, do indeed have a calming effect, because they don't distract the eye as maximalist schemes and colours may do. But for some, a completely neutral colour palette is safe and prevents them from reflecting their personality in their home. There are many ways to create a calm colour scheme, without dutifully sticking to beige, greige and grey:
Use colour psychology to determine your colour season – these are groups of harmonious colours that most appeal to you
Stick to tried and tested complimentary contrasting colours (opposites on the colour wheel)
Use the 60 / 30 / 10 rule where the majority of the scheme (60%) is one colour, around 30% of the scheme (perhaps patterns and prints) is another colour and just 10% is a contrasting or accent colour
Try a monochromatic colour scheme – this means decorating using shades of one single colour
Painting the walls and ceiling the same colour can reduce visual breaks and support a feeling of calm
A Note on Choosing White Paint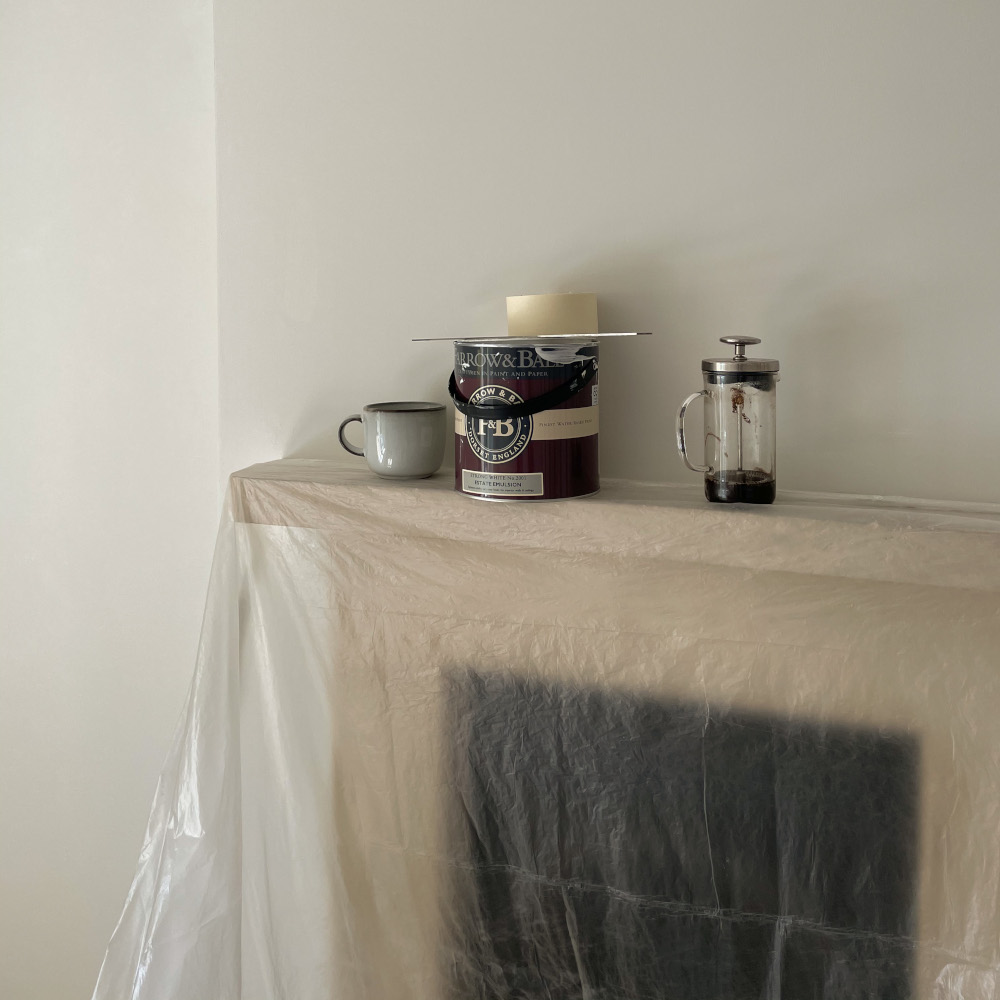 Chances are you'll be incorporating some sort of white shade into your scheme or using it as your main wall colour. White with a green undertone will be much cooler than say a white with a red undertone. And these undertones will be more pronounced depending on the aspect of the room. A south-facing room, flooded with light and sunshine, will see a white with a red undertone look creamier. In a north-facing room, a cool white will become yet cooler with the darker, bluer light filling the room. The light in a room will change throughout the day, therefore also changing the look of the white, and the items in the room will also change how the white appears. In short, it's important to use testers to see how the light changes in a room throughout the day and compare the shade against the other colours and fabrics you intend to use. Whites in Instagram photos and magazines won't look the same on your own walls, or necessarily work for the unique character of your own home.
At Slow Living LDN. we love the Slaked Lime series by Little Greene, it's full of warmth without being overly yellowy. It pairs well with Skimming Stone by Farrow & Ball for woodwork.
Reducing Clutter and Visual Distractions
In a recent interview, Helen, who restores beautiful properties as holiday lets under the name Slow Norfolk, shared her secrets for creating a calm interior. For Helen, simplicity is paramount. She explains, "Resisting the urge to clutter a space, grounding your design in nature, and keeping to an effortlessly minimalist style helps to exude a calming sense of tranquillity." If can be hard to relax when you can see piles of 'stuff' which needs sorting. When every item has its place, spaces are easier to keep neat. Even if not on show, grouping similar things into baskets and compartments inside drawers and cupboards makes it easier to keep loose items tidy and means you'll always know where to find them. A declutter feels good (even if you regret starting when you're in the midst of it), and it's always worth revisiting Marie Kondo's KonMari method for a place to begin.
"Resisting the urge to clutter a space, grounding your design in nature, and keeping to an effortlessly minimalist style helps to exude a calming sense of tranquillity."

Helen, Slow Norfolk
But visual distractions aren't just about clutter and mess. Think about the branded packaging on display in your kitchen or bathroom. There are logos and slogans vying for our attention, distracting from our carefully considered interiors schemes with their brash lettering and colours. Decanting dry goods or spare toiletries into attractive glass storage jars or baskets avoids the eye being pulled to the noisy packaging that stands out the most.
Adding Texture and Textiles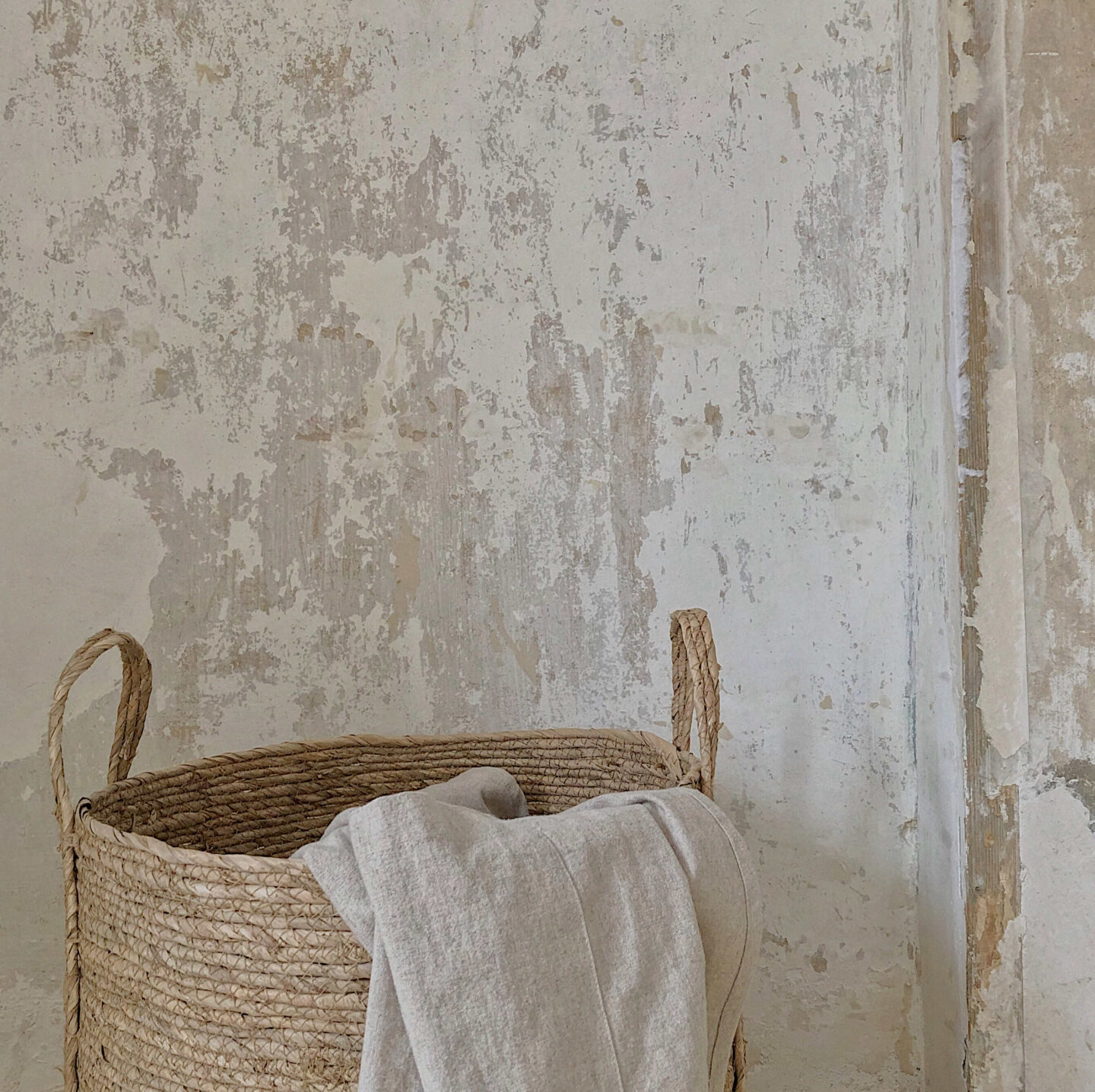 In her book Calm, Sally Denning notes, "colour works hard to bring interest to an interior, but it's natural elements like stone, wood, hessian, linen and raw brick that give it an organic, multi-layered feel." Adding layers of texture with natural materials or handmade items can help create a calming room because these are bound to include imperfections. This notion is supported by the concept of wabi-sabi, which means to accept and appreciate the imperfect and transient. In calm interiors, to embrace wabi-sabi through natural textures and items with age and patina, is to create an authentic home. It's not a perfect show home, it's a softened space that allows us to relax and be our complete imperfect selves.
Embracing Biophilic Design
Biophilia relates to our human instinct to connect to nature and other living beings. Since our natural habitat today exists within the built environment, biophilic design seeks to foster this connection in buildings and cities. At home, this means repeated and sustained interactions with nature. This is summarised beautifully in Curate, by Lynda Gardener and Ali Heath: "Nature is about connection, remembering the world we live in, minimizing our footprint and noticing the passing of time. It has a gentle rhythm and is an essential consideration when creating relaxed, timeless spaces."
Houseplants are a great choice, but other natural elements such as dried grasses and flowers, wood and natural textiles can also help create that connection to the outdoors. Accessorising with nature also allows us to easily refresh spaces in pace with the seasons, further fostering that connection with the patterns of the natural world.
Using Lighting to Create a Restful Ambience
While oodles of natural light helps support productivity and our mood, our homes need good lighting to help us navigate our spaces or perform tasks on dark days and in the evening. However, it's important to not overlook the second layer of softer lighting, or 'mood lighting', which plays a key part in helping our homes feel tranquil and calm. Instead of relying on one bright overhead light or a series of spotlights, consider how you want the space to feel for relaxation. And importantly, how the lighting in rooms flows together during this relaxation time.
In our interview with Joanna Thornhill, interior stylist and author of The New Mindful Home, she encourages us to consider this 'lighting journey'. She explains, "switching to soft, warm lamps and side lights in your living room an hour or two before bed can help you wind down, but ensure your bedroom also has similar soft layered lighting so your good work isn't undone by a harsh bedroom light."
"…switching to soft, warm lamps and side lights in your living room an hour or two before bed can help you wind down…"

Joanna Thornhill, interior stylist
So when choosing lighting, think about whether the bulb is warm or cool. As Joanna mentions, warm lighting is best for the evening, to support our circadian rhythm. Bulb experts Tala explain how, "our eyes and brains have evolved to view the world by the light from the sun and respond to the change in warmth of light as the day progresses from sunrise to noon to sunset." To use lighting to complement this natural process means we're supporting feeling alert and focused in the morning and calm and prepared for sleep in the evening. If you can't layer your lighting in a certain space, explore Dim to Warm lighting which changes the light temperature from cool to warm when dimmed, making the bulb multi-purpose.
Creating a Tranquil Sanctuary for Sleep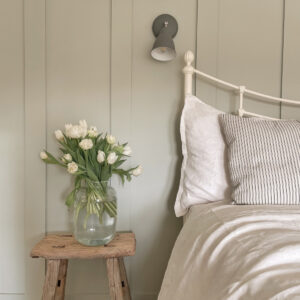 When you're thinking about how to create a relaxing room, warm, dimmed lighting is just the start when it comes to creating a calm atmosphere for sleep. Adopting a slow tech stance and orientating your bedroom around rest rather than screens is another important consideration. The blue light emitted from screens can also disrupt our circadian rhythm and keep us feeling alert, plus notifications or just the temptation to reach for our phone, can lead to broken sleep.
Key Tips for Creating a Calm and Peaceful Home
This article is packed with ideas and expert insight on creating a calm home. Here's what you need to know in a nutshell:
Discover which colours make you feel calm and don't forget to test your paint samples at different times of the day
Reduce visual distractions by hiding branding and labels
Invest in clever storage and use internal storage within cupboards and drawers to ensure everything has a place to be returned to, minimising clutter
Embrace the concept of wabi-sabi and layer natural textures and textiles within your spaces to create a soft and inviting atmosphere
Foster a connection with nature by bringing natural elements into your schemes
Use lighting to mimic your body's circadian rhythm – warmer, softer light in the evening helps you wind down before bed
Create a screen-free bedroom which supports good sleep
Further Reading and Inspiration: Calm Interior Design Books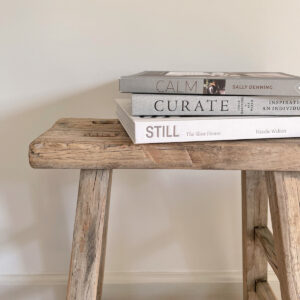 Calm: Interiors to Nurture, Relax and Restore – Sally Denning
Curate: Inspiration for an Individual Home – Lynda Gardener and Ali Heath
The New Mindful Home – Joanna Thornhill
Home for the Soul – Sara Bird and Dan Duchars
Still: The Slow Home – Natalie Walton
Don't miss our guides to slow interiors and how to personalise your home, too.