Spending an increased amount of time at home over the past two years has left many of us reflecting on our spaces and our changing needs for them. During the first lockdown in 2020, Santander revealed that 60,000 extensions were applied for and 61% of UK homeowners undertook some sort of DIY or renovation project.
Interiors stylist, writer and author Joanna Thornhill's latest book, The New Mindful Home, comes at an ideal time. Going beyond the latest trends, Joanna encourages readers to take a considered, well-being first approach to designing their living spaces. Below, Joanna shares how to create a mindful home that supports your well-being, while minimising environmental impact. She details the benefits of 'turning down' your home, inviting nature in, and making vision boards, as well as where she, as an interiors stylist, finds inspiration.
Tell us a little more about the mission of your latest book The New Mindful Home.
"I really wanted to offer readers a thoughtful, deeper look into how we decorate our homes, and to help them consider how we want our homes to make us FEEL as a starting point, rather than simply explaining how to create a certain look or style. What started as a passing curiosity into how our environment links to our well-being turned into a huge passion project, and I was amazed at how intertwined the two topics are.
I wanted to explain how the idea of taking a mindful approach to home design actually has roots in neuroscience just as much as spirituality, and also how a mindfully designed space doesn't necessarily equate to one particular style – it's a totally individual response.
My final part of the jigsaw was looking at the sustainability part of the story – how the materials and items we use to furnish and decorate our home need to be treated with a mindful approach, too: it can't simply be about our own well-being, it also needs to support our local community and the planet, too. By putting all that together, and coming up with a bunch of practical, actionable ways to achieve this, I hope I've created something that's both food for thought yet highly useable, too."
Your books are packed with useful advice for designing a home, but where do you personally find inspiration when starting an interiors scheme?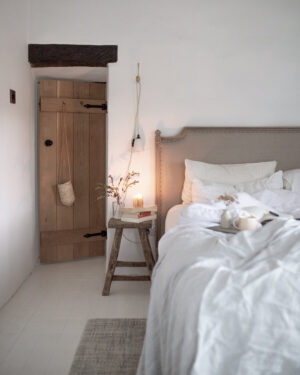 "Within my work I'm exposed to new and inspirational designs all the time – what tends to pique my interest is someone doing something a bit different and unique from the rest. That could mean a designer using an innovative material made from waste, or a really well curated range of products with interesting shapes and silhouettes. Paint companies often have beautifully styled, creative room shots, and I love getting out and about at trade shows to spot new brands. Away from direct interiors sources, though, I love just getting out and about and noticing a lovely colour combination in a pretty landscape, or some interesting patterned tiles on holiday. It all just goes into the brain-bank and finds its way out again in one guise or another!"
Creating a mood board is a popular activity when planning a space, but you also champion making vision boards. Why is that?
"This really relates to my ethos of encouraging people to consider how they want a space to make them feel before getting too bogged down in paint swatches and floor tiles. To my mind, a mood board comes a lot later on in the design process, once you're clear on what you're trying to achieve and are ready to start pairing different materials and finishes together. A vision board is a lot less literally focused on the design: it's almost like a visual journalling tool to help you gain clarity on the feeling you'd like to achieve in your space."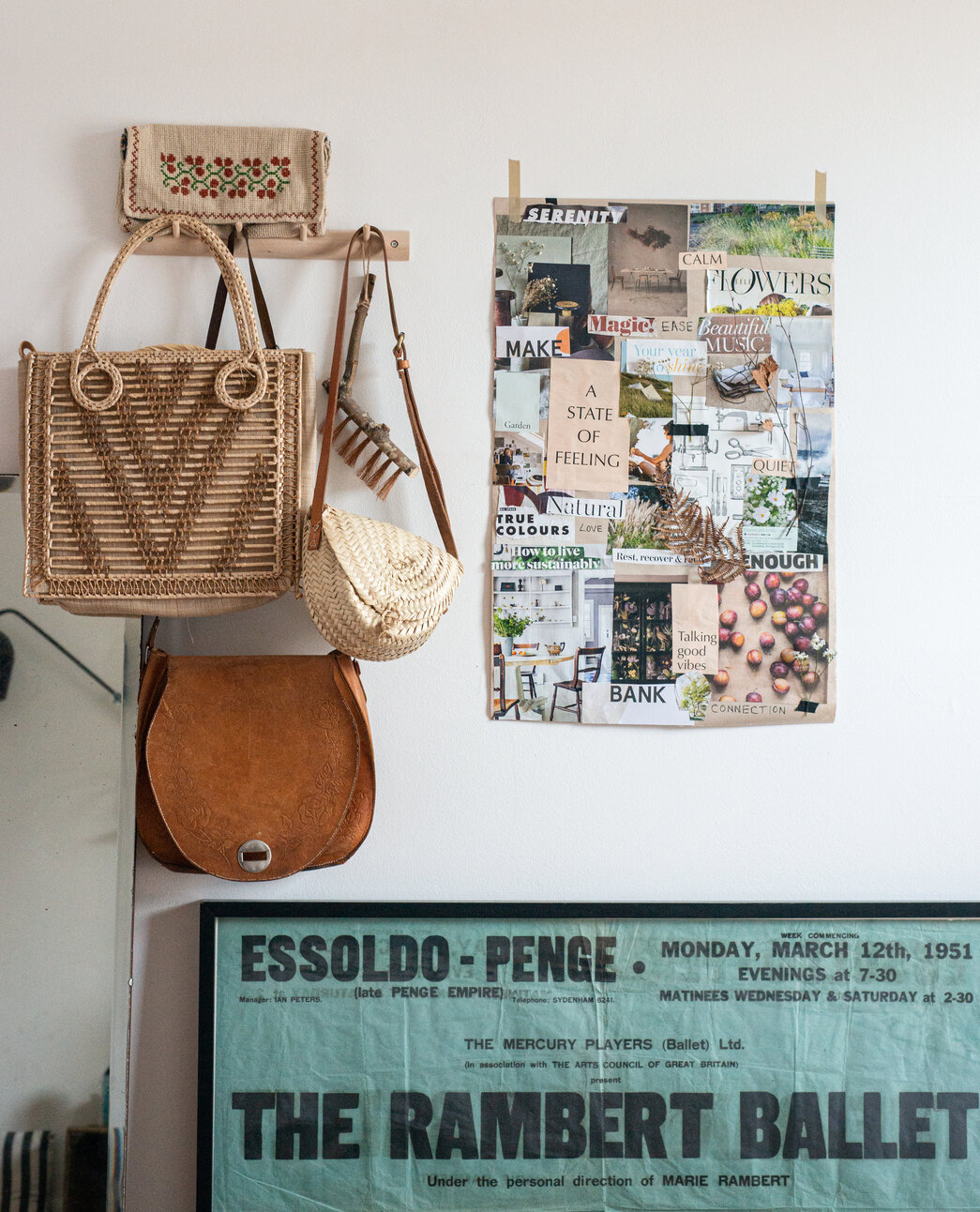 "A vision board is a lot less literally focused on the design: it's almost like a visual journalling tool to help you gain clarity on the feeling you'd like to achieve in your space."
Image selected by Joanna Thornhill, credited to Hannah Bullivant
"In the online workshops I've taught, I always encourage participants to have a loose idea in mind of the room they're looking to decorate, but to then just spend some time almost absent-mindedly going through a magazine or an online image bank such as Pinterest, then simply cut out or save any images you feel naturally drawn to, without over-thinking it. Keep a note of exactly what it was you felt drawn to – was it the sense of space, or a drop of vibrant colour that sat in an otherwise neutral environment? The images needn't be of interiors spaces – they just need to make you feel the way you'd like to feel within your space, then you can objectively analyse exactly what it is you're drawn to at the end. This will then give you an 'emotional blueprint' to base your scheme on and, if you keep checking in with your gut as you go, should also help you avoid decorating in a way which ultimately doesn't feel quite right to you."
How can our homes help us to embrace slow living and calm?
"Practicing mindfulness has been a huge buzzword over the last few years, but often it's conflated with meditation whereas actually, mindfulness is simply a principle you can apply to pretty much any activity. By simply taking the time to focus on what you're doing in your home, and trying to actively appreciate and enjoy it, in of itself is an act of slow living and can help calm an anxious nervous system, taking us from 'fight or flight' into 'rest and digest' mode, which is far more conducive to creating a calm headspace.
You can take this approach to whatever works best for you – it could be really savouring the process of watering a collection of house plants by taking the time to focus on their leaves and shapes while watering, or even making the bed in the morning if you take the time to focus on how good it'll feel when you get in from a hard day at work to a tidy bedroom."
Read more about how to create a calm interior scheme.
In The New Mindful Home, you talk about 'turning down your home', can you explain a little more about what this means, and why it might be beneficial?
"We're all aware to one degree or another that looking at blue light (such as our phone screens) directly before bed can upset our circadian rhythm, but there's a lot more than that which can overly stimulate us in the home that could be having detrimental effects on both our sleep and overall stress levels throughout the day.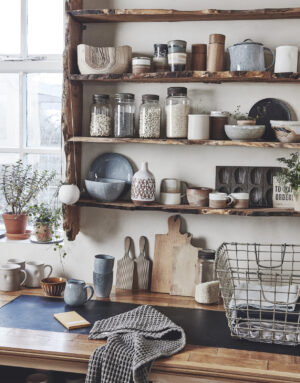 In my section in The New Mindful Home about turning down your home, I talk about a wider range of distractions which we could all benefit from reducing in our homes, especially as we ready ourselves for sleep or at times of increased stress.
One idea is to try and minimise the eye-catching branding which often adorns packaging, by decanting foodstuffs into vintage tins or Kilner Jars, for example. Another way is to think about the 'lighting journey' in your space before bed: switching to soft, warm lamps and side lights in your living room an hour or two before bed can help you wind down, but ensure your bedroom also has similar soft layered lighting so your good work isn't undone by a harsh bedroom light."
What tips would you give someone trying to decorate their home more sustainably?
"Just take a moment to check in before making any interiors purchases and ask yourself if there's anything you could do better when it comes to that purchase: the answer may well be no, but it's really worth pausing before idly hitting 'buy it now' on that shopping cart. Shopping sustainably can be a bit of a minefield, with lots of 'greenwashing' going on, and a lot of onus put on the consumer to try and figure out whether something feels reasonably eco, along with related considerations such as its end-life (can it be recycled or reused?) or how recyclable its packaging is in your area.
Sustainable can also be a personal choice: would you prefer to purchase something made from a virgin natural material like wood, or something created from reclaimed plastics, which isn't an eco material but is potentially saving something from landfill?
Ultimately, I think applying the 'good, better, best' principle works well here: say you're looking to buy a new dining table, 'best' might be a bespoke piece made item from a local artisan using reclaimed timbers (which might be prohibitively expensive for many), whereas 'better' could be purchasing a second-hand table that's made from virgin plastics, while 'good' could be a new high street item from a retailer who are actively working towards becoming carbon neutral."
Why do you think bringing nature into our homes is so important for our well-being?
"There's a great deal of research showing how important it is for us as humans to feel connected to nature, whether directly (through houseplants) or indirectly via decorating with natural materials such as wood and stone. Research has shown that even looking at a picture of a natural element, such as a leaf print, can help to calm us down and even decrease blood pressure."
"Research has shown that even looking at a picture of a natural element, such as a leaf print, can help to calm us down and even decrease blood pressure."
"Conversely, a space with very little in the way of natural connections – if decorated with lots of manmade materials and with colours that feel unconnected to the Great Outdoors – can in turn make it harder for us to truly feel at home. And generally speaking, using natural materials and real plants, over faux or synthetic facsimiles, is better for the environment, too. Win-win!"
What are your favourite places to source interiors accessories and furniture?
"There's almost too many to mention! There's a few online retailers I really like, whose ethos chimes well with my own, such as The Future Kept. The website Wearth is a great resource – it rounds up lots of different eco-friendly brands and allows you to sort according to your personal values as well as product type.
And I love shopping locally from independent designer/makers and retailers where possible: not only does it support the local community, it also comes with an added connection to that maker and a shared commonality. One local-to-me bricks-and-mortar store (with an online shop) I really like is The Every Space who specialise in plants, homewares and lifestyle finds, all with a focus on wellness and sustainability.
Finally, nothing much gives me greater joy than trawling a charity shop, flea market or car boot sale in search of second-hand treasures."
You can buy The New Mindful Home from Bookshop.org and Amazon. Alternatively, you can buy directly from Joanna's website for a signed copy.
---
For more inspiration, head to our list of favourite coffee table interiors books, our guide to slow interiors and how to personalise your home, or discover the meaning of wabi-sabi.