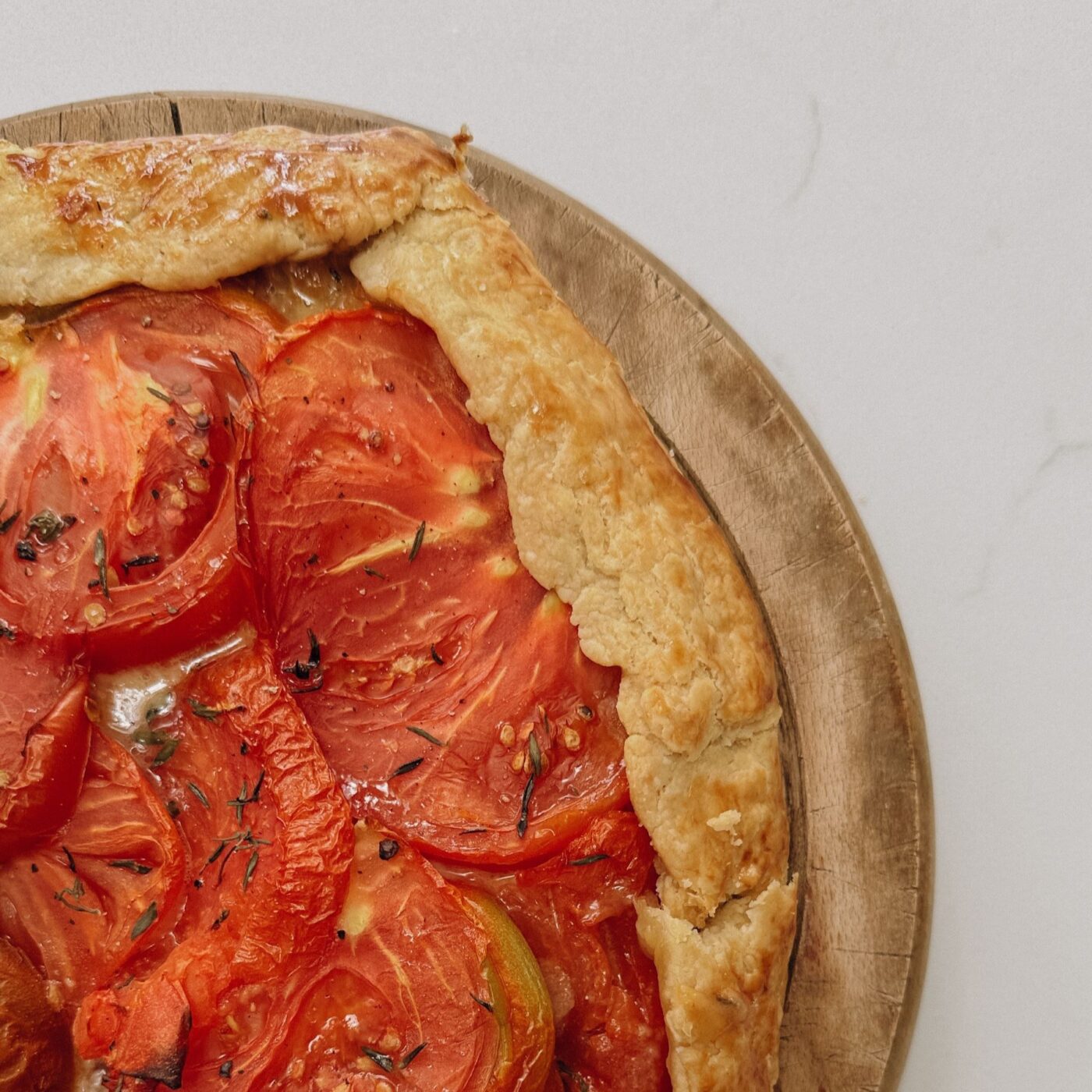 This tomato galette is a great way to use up late ripening tomatoes. Our greenhouse is full of tomatoes which are only starting to turn from green to red, but since we've waited all summer, we're keen to make the most of them. There's nothing quite like the taste of your own homegrown produce.
This galette recipe also looks great with heritage-style tomatoes in different colours. Our favourites? Isle of Wight Tomatoes. These always look incredibly appetising and live up to the anticipation in taste, too. They're grown in the Arreton Valley on the Isle of Wight and benefit from the highest sunshine levels across the UK. 'Slow grown' and only picked when perfectly ripe, you can order them online or hunt them down at a local farm shop between March and October.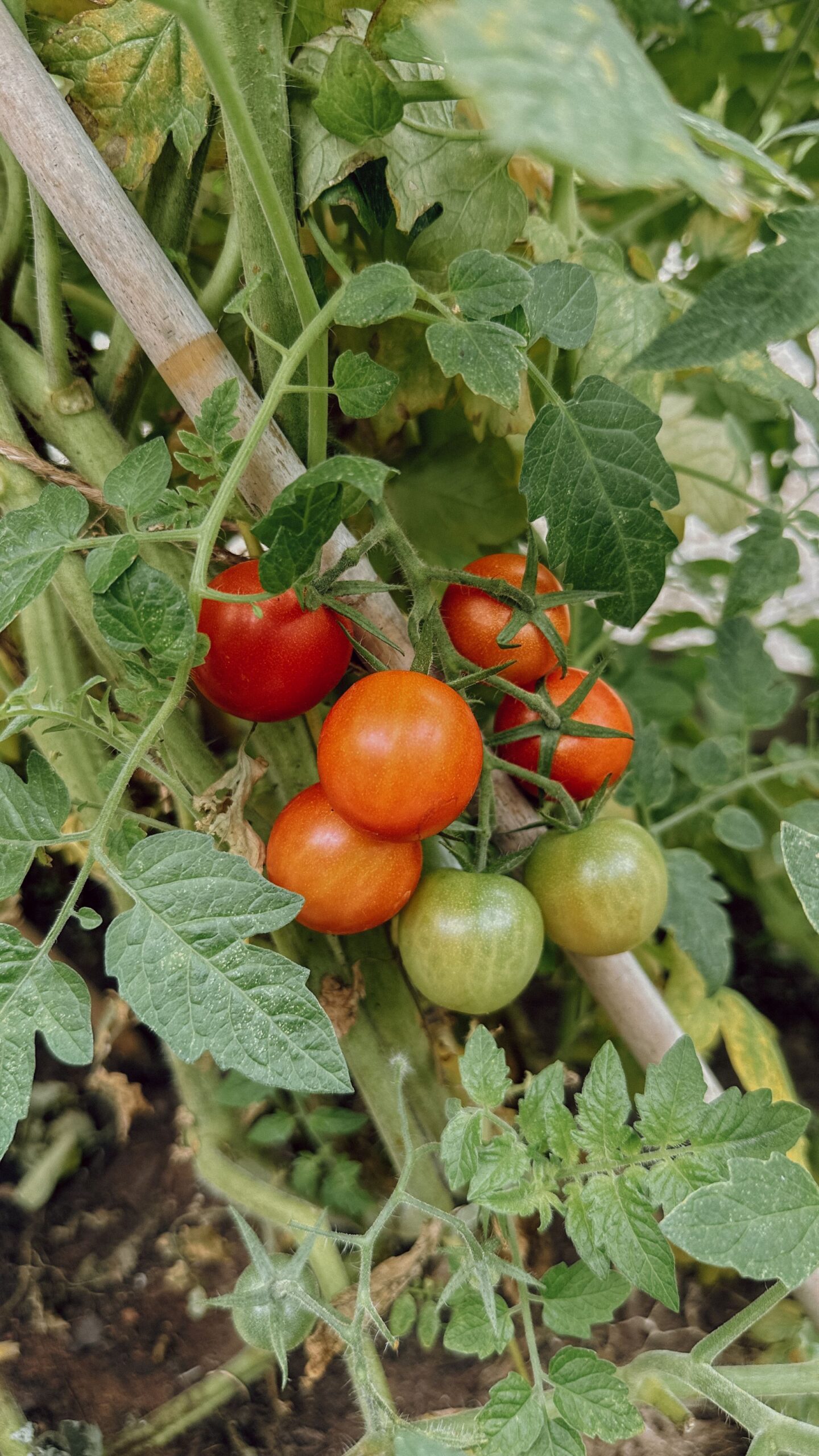 Versatile galettes for all seasons
A galette is an ideal slow food dish. Combine a semi-hard or hard cheese with onions, a flavourful vegetable and complementary herbs and you have yourself a versatile dish to showcase the best of what's in season. Why not try an interesting local cheese? We've used Wyfe of Bath and it was delicious.
Beyond being a great vehicle for seasonal vegetables, a galette is also hugely versatile in how you serve it. Easy to make, but worthy of a being a centrepiece, a galette works for a relaxed supper with friends, picnics or sliced up for easy weekday lunches.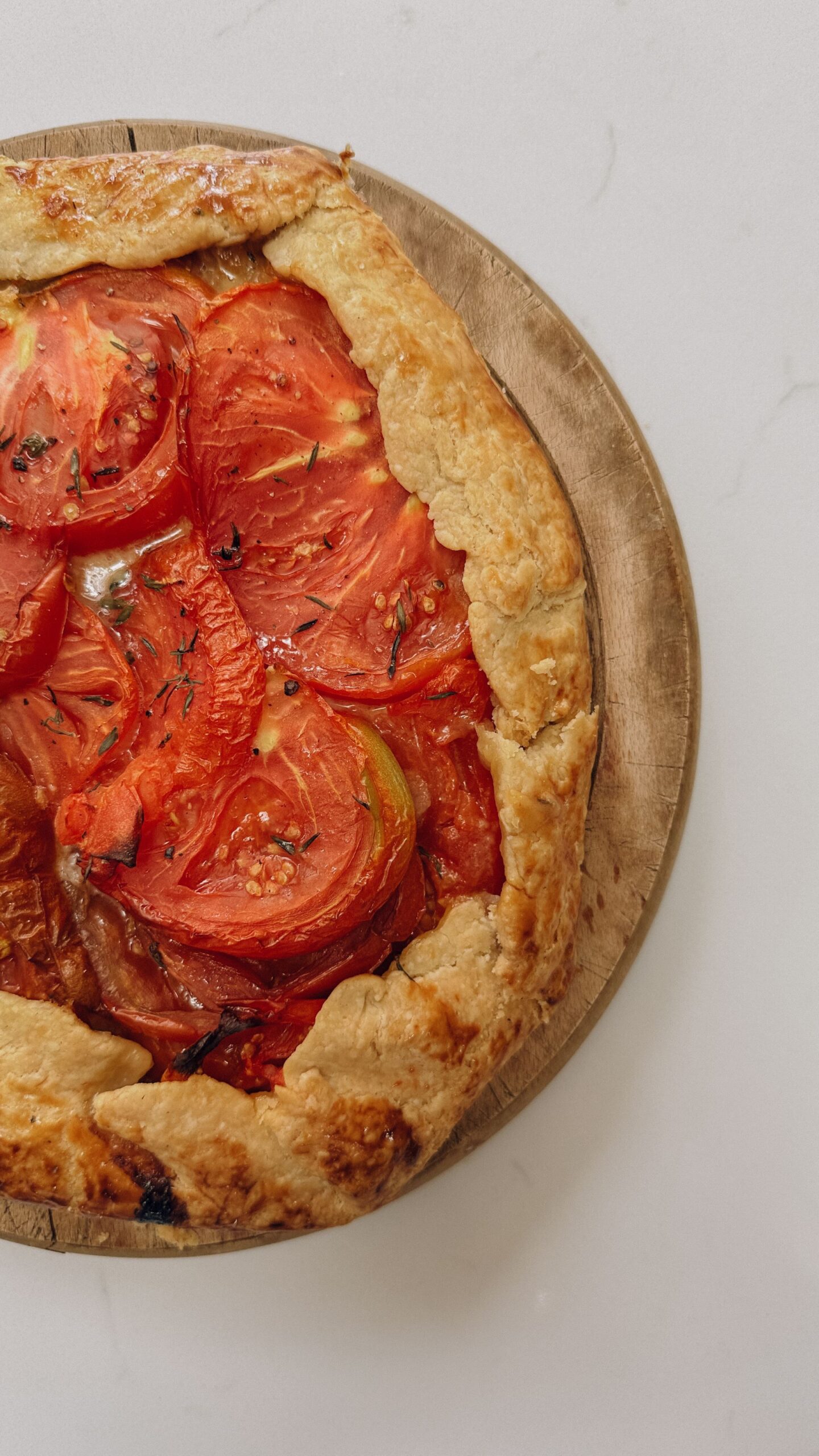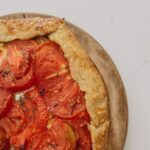 Tomato galette recipe
A comforting, hearty galette topped with fresh, in season tomatoes.
Ingredients
For the galette dough
200

grams

plain flour

(plus extra for dusting)

½

tsp

salt

150

grams

butter

80

grams

sour cream

1½

tbsp

white wine vinegar

60

ml

ice water

1

beaten egg
For the topping
1

white onion

125

grams

semi-hard or hard cheese

(nutty, flavoursome cheeses like gruyere work well)

1

bunch

fresh thyme

1

tsp

butter

400

grams

fresh cherry or heritage tomatoes

Pinch

salt and pepper
Steps
Mix the plain flour and salt.

Rub in the diced butter with your fingers until the mixture resembles breadcrumbs.

Combine the sour cream, white wine vinegar and 50ml of the ice water. Add to the butter and flour mixture.

Bring the dough together, adding the rest of the water if the mixture isn't too wet. This is a sticky dough so you may need additional flour and opt to skip the extra water. Knead once or twice to bring into a smooth ball.

Wrap and chill the dough for at least 1.5 hours.

Meanwhile, slice the onion and fry with a heaped teaspoon of butter until soft.

Slice each tomato in half if using cherry-sized tomatoes, or into slices if larger. Sprinkle with salt and leave to sit for at least ten minutes. Afterwards, mop up as much liquid as possible using a paper towel.

Preheat the oven to 180℃ (fan).

Flour the work surface and roll the dough out until it is around 30 cm in diameter. As the dough will get sticky again quickly, it can be easier to roll the dough out between two pieces of parchment. When rolled out to 30cm, lift the bottom sheet of parchment onto a baking tray.

Combine the grated cheese, onions and fresh thyme. Season with pepper. Spread the mixture onto the rolled out dough, leaving a 5cm gap at the edges.

Top with the tomatoes. Arrange cherry tomatoes cut-side up. Or arrange larger sliced tomatoes so they overlap slightly. Pat dry again.

Now fold in the edges of the dough in rough pleats. This doesn't need to be perfect!

Chill the galette in the fridge for at least 15 minutes or until the dough feels firm again.

Remove from the fridge and brush the edges with beaten egg. Bake in the oven for 35-40 minutes until the edges are golden brown.

Leave to cool for 5 minutes before serving.
Recipe Notes
For the ice water: measure out 60ml of water and pour into a small freezable container. Place in the freezer for 15-20 minutes until almost beginning to freeze.
This is a sticky dough, so you'll need to keep it as cold as possible and work quickly.