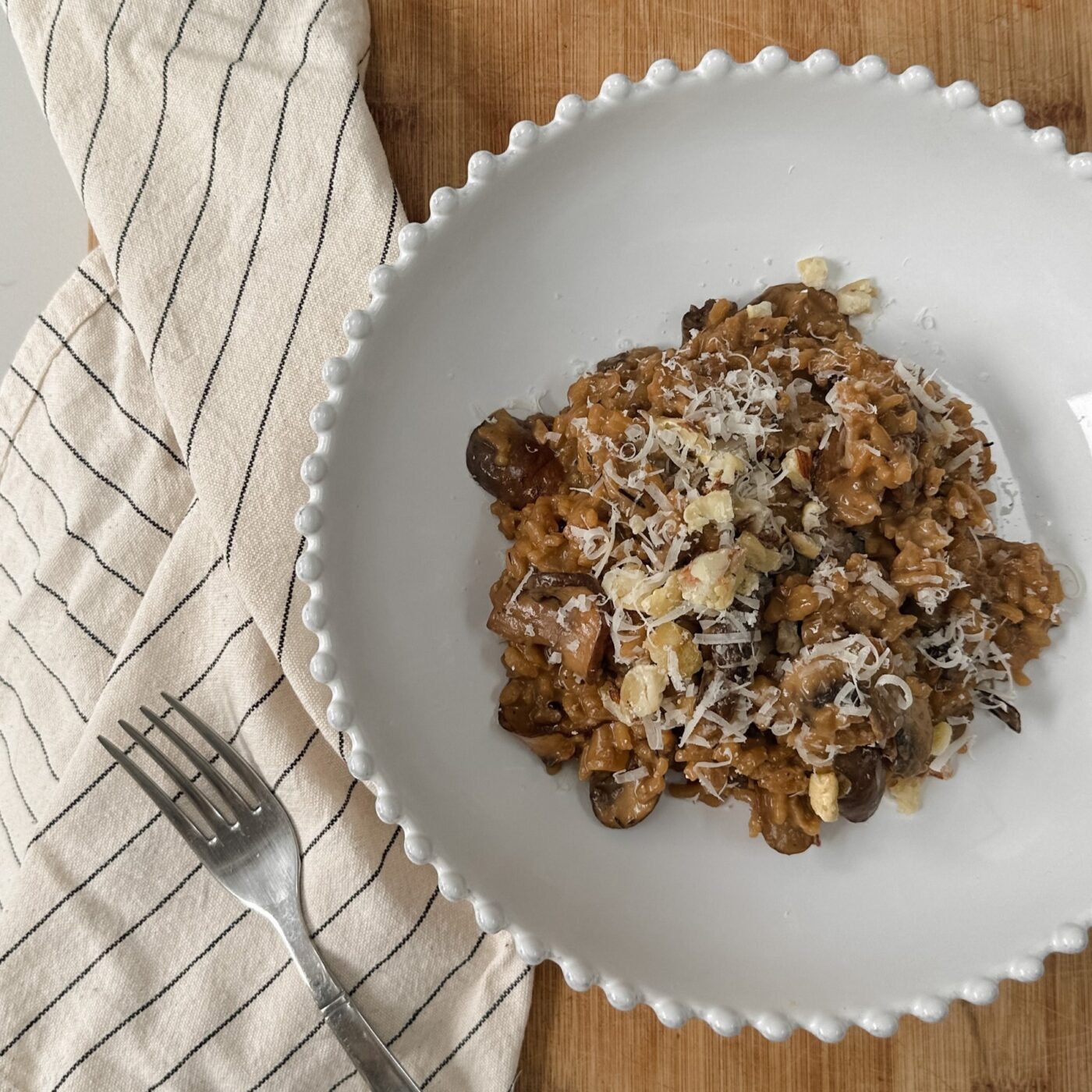 This moreish risotto is the perfect comforting meal for autumnal evenings. The roasted chestnuts add a little bite and sweetness, while the savoury umami flavour of dried porcini mushrooms adds real depth to the dish. The liquid leftover from soaking the porcini mushrooms is dark and rich and transforms the colour of the risotto. Come late October, sweet chestnuts are abundant and easy to forage. Roasting your own freshly foraged chestnuts makes this a true slow food supper, but this seasonal ingredient is also available to buy, too.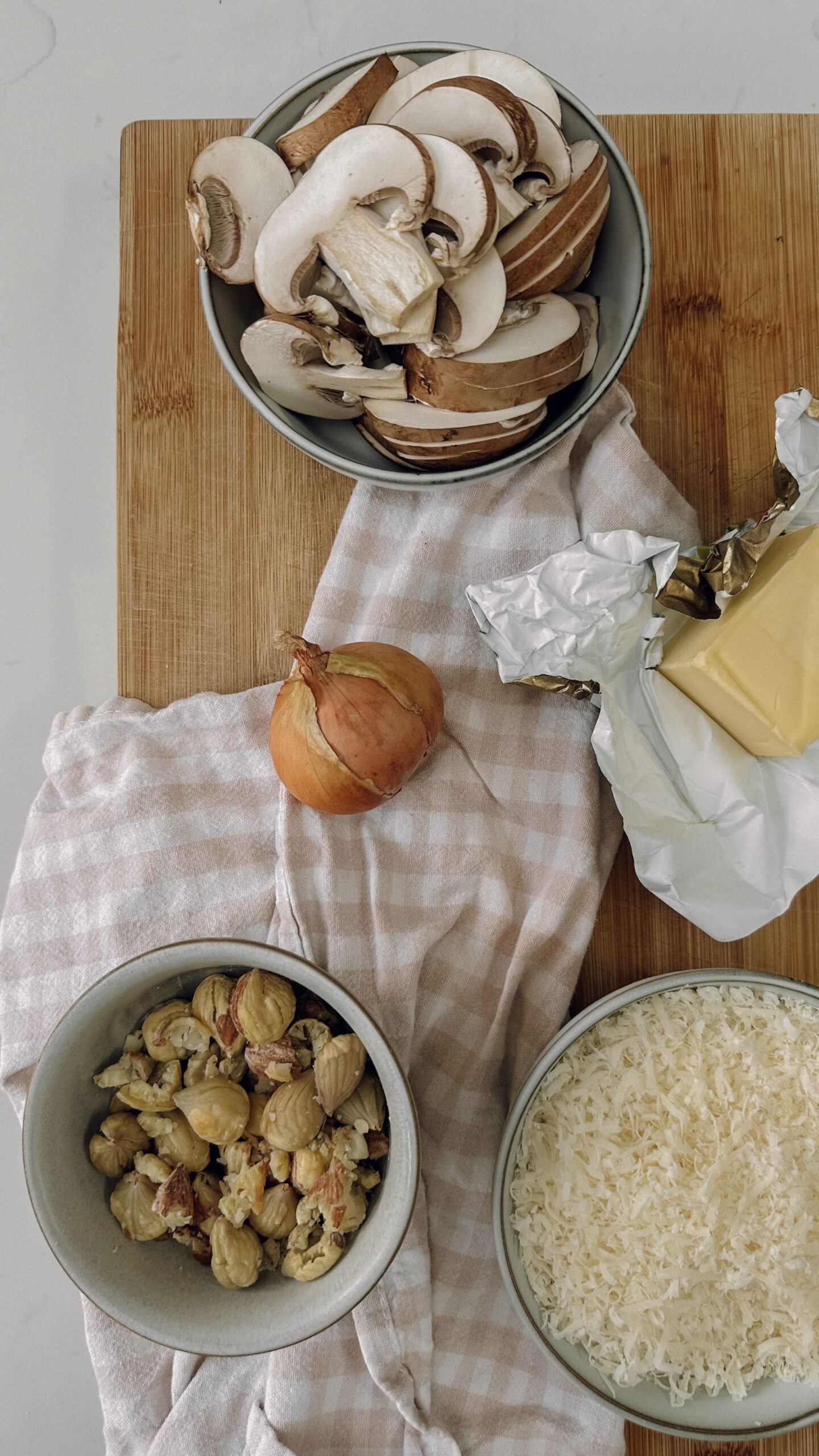 The slow secret of a great risotto
A creamy, non-gluey risotto takes patience. The slow secret to a delicious risotto is adding one ladle of warm stock at a time, stirring frequently, and not adding more stock until the previous ladleful has soaked into the rice. That said, the rice shouldn't be allowed to dry out. Slowly adding the stock rather than flooding the rice allows you to reach the perfect consistency and avoid overcooking the rice.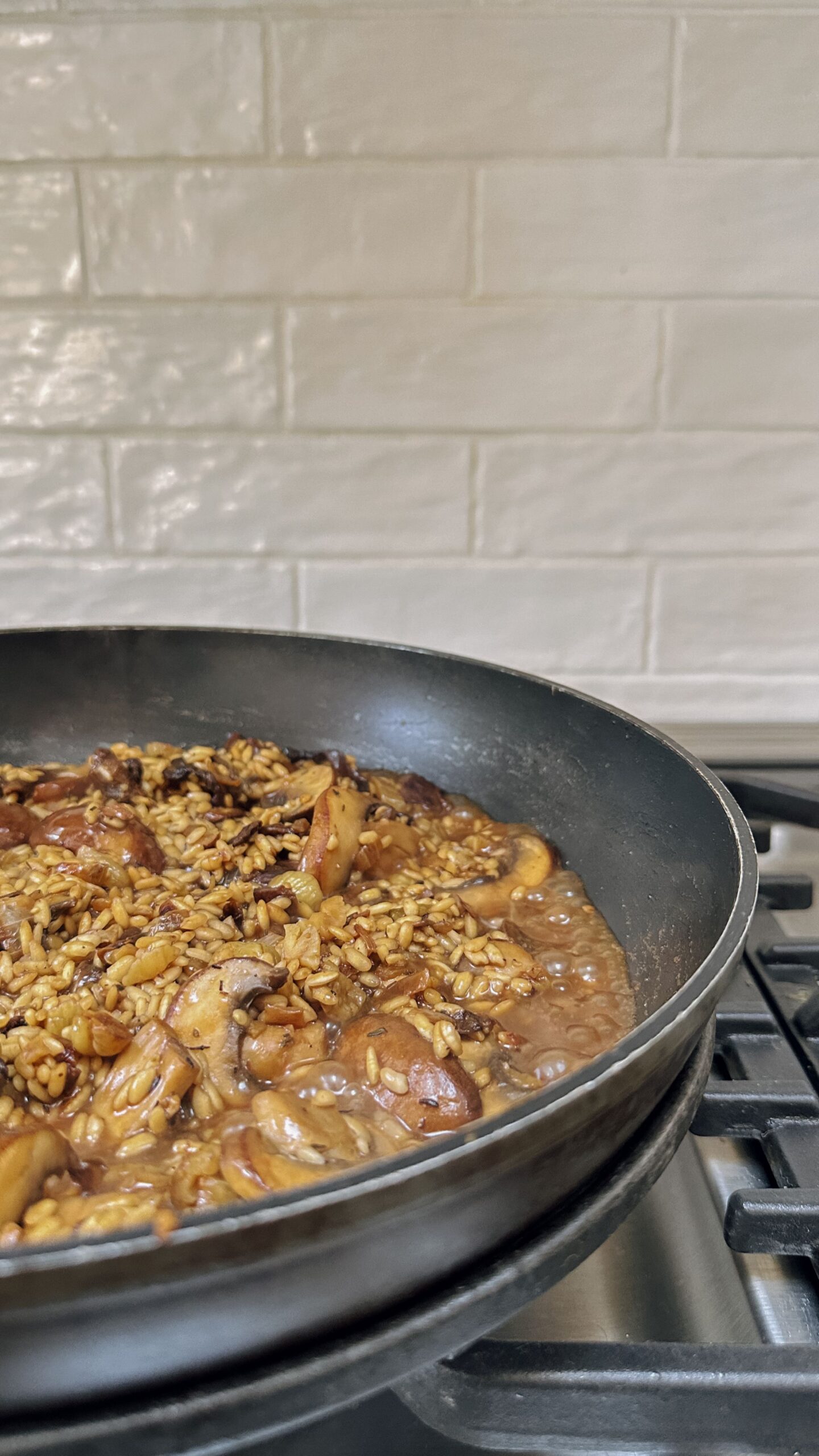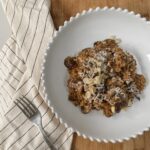 Roasted chestnut and mushroom risotto recipe
A rich, creamy and comforting risotto for autumnal evenings.
Ingredients
100

grams

roasted chestnuts

200

grams

mushrooms

(Sliced. We used chestnut mushrooms.)

25

grams

dried porcini mushrooms

200

grams

Arborio risotto rice

1

onion

(Small)

1

clove

garlic

(Chopped.)

750

ml

chicken stock

(Or vegetable, if preferred.)

100

ml

dry white wine or rose wine

2

tbsp

butter

1

tbsp

Philadelphia cream cheese

(Optional, but adds extra creaminess.)

1

tsp

fresh or dried thyme

100

grams

parmesan

Salt and pepper
Steps
Cover porcini mushrooms with boiling water in a bowl. Leave for 20 minutes before removing and chopping the mushrooms. Keep the liquid and put it to one side.

Fry the onion and garlic in 1.5 tbsp of butter until soft.

Add both types of mushrooms, the thyme and ⅔ of the chestnuts. Add a further 0.5 tbsp of butter if needed. Fry until the mushrooms are soft. Season with salt and pepper.

Stir in the risotto rice until coated.

Add the wine on a fairly high heat and stir until almost evaporated.

Add the porcini mushroom liquid and stir again until almost evaporated. Try to avoid adding any sediment or grit that may have settled at the bottom of the bowl.

Now stir in one ladle of warm stock at a time over a medium heat. Add the next when the liquid has almost dried out, but not completely. Continue until the rice is cooked but still has a little bite to it. You may not need all the stock.

Stir through the parmesan and Philadelphia is using.

Season with salt and pepper and top with the remaining chestnuts and grated parmesan to serve.
Recipe Notes
This comforting risotto serves two hungry people, or three with smaller portions.
Don't skip the porcini mushrooms and liquid, these add depth of flavour and a beautiful colour to the dish.