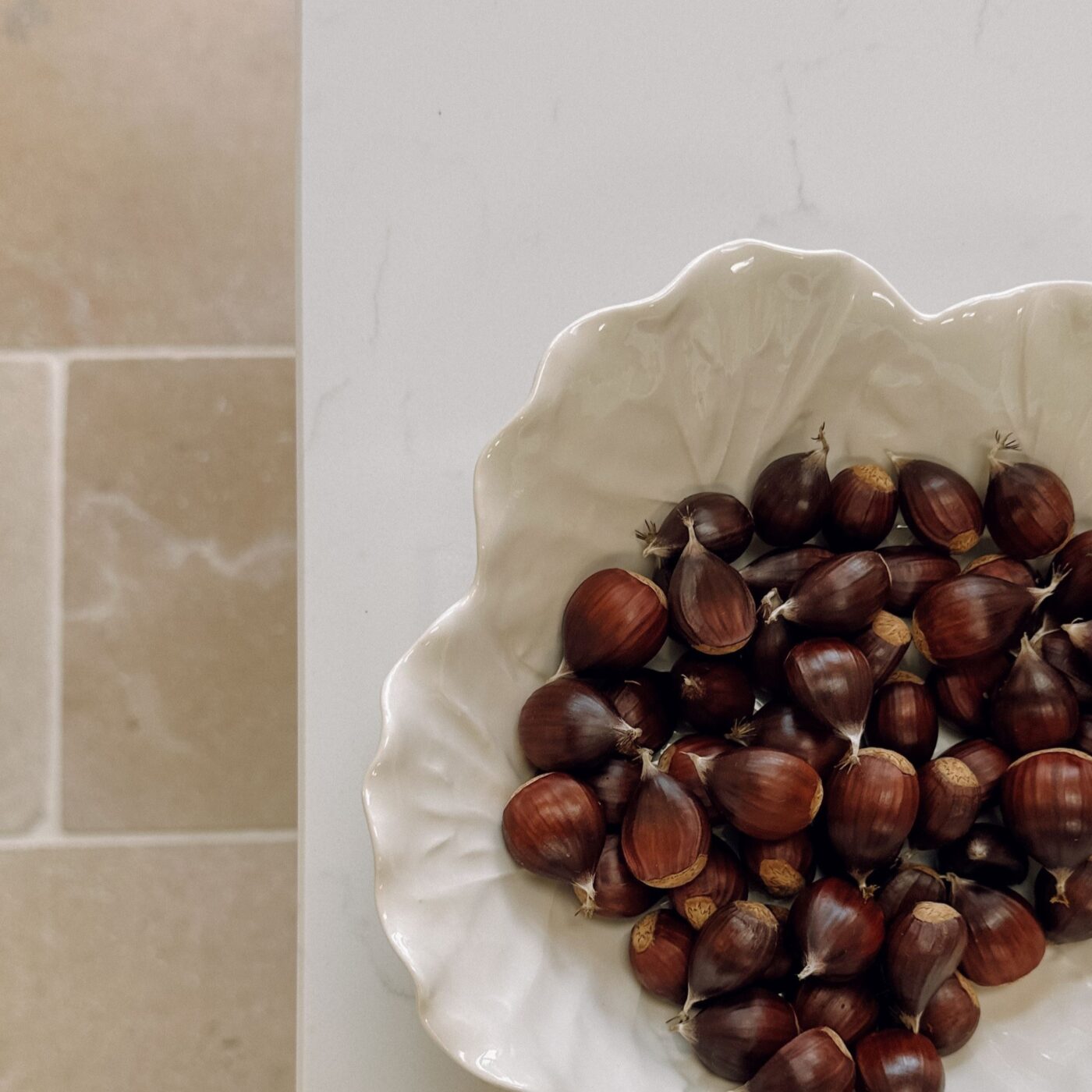 The smell of roasted sweet chestnuts evokes memories of Christmas markets and the festive season. Despite the Christmas traditions, sweet chestnuts actually come into season in October in the UK.
The Latin name for chestnut is castanea which is said to be derived from the Ancient Greek 'kastanon'. While sweet chestnuts are native to southern Europe, they are widely found across the UK. Chestnuts gathered in the UK tend to be smaller owing to the cooler climate. Plus, unlike other types of nuts which are rich in protein, chestnuts are packed with carbohydrates. They're also a great source of vitamin C and fibre.
Celebrate the season of autumn with our tips for foraging sweet chestnuts and roasting them at home. New to gathering wild food? Read our tips on how to start foraging first.
Tips for foraging sweet chestnuts
Sweet chestnut trees are common across parkland and can grow up to 35m tall.
The sweet chestnut tree has long thin leaves with jagged toothed edges.
The extremely spiky green cases are the telltale sign you've found sweet chestnuts. These start to turn to light brown and split open as the chestnuts ripen.
You tend to find up to three chestnuts in each spiky case, and often one is much larger than the others and the best for gathering to roast.
Don't confuse the sweet chestnut tree with the horse chestnut tree. Horse chestnuts (or 'conkers') are actually poisonous. As ever with foraging, only gather and eat what you are completely confident that you can identify.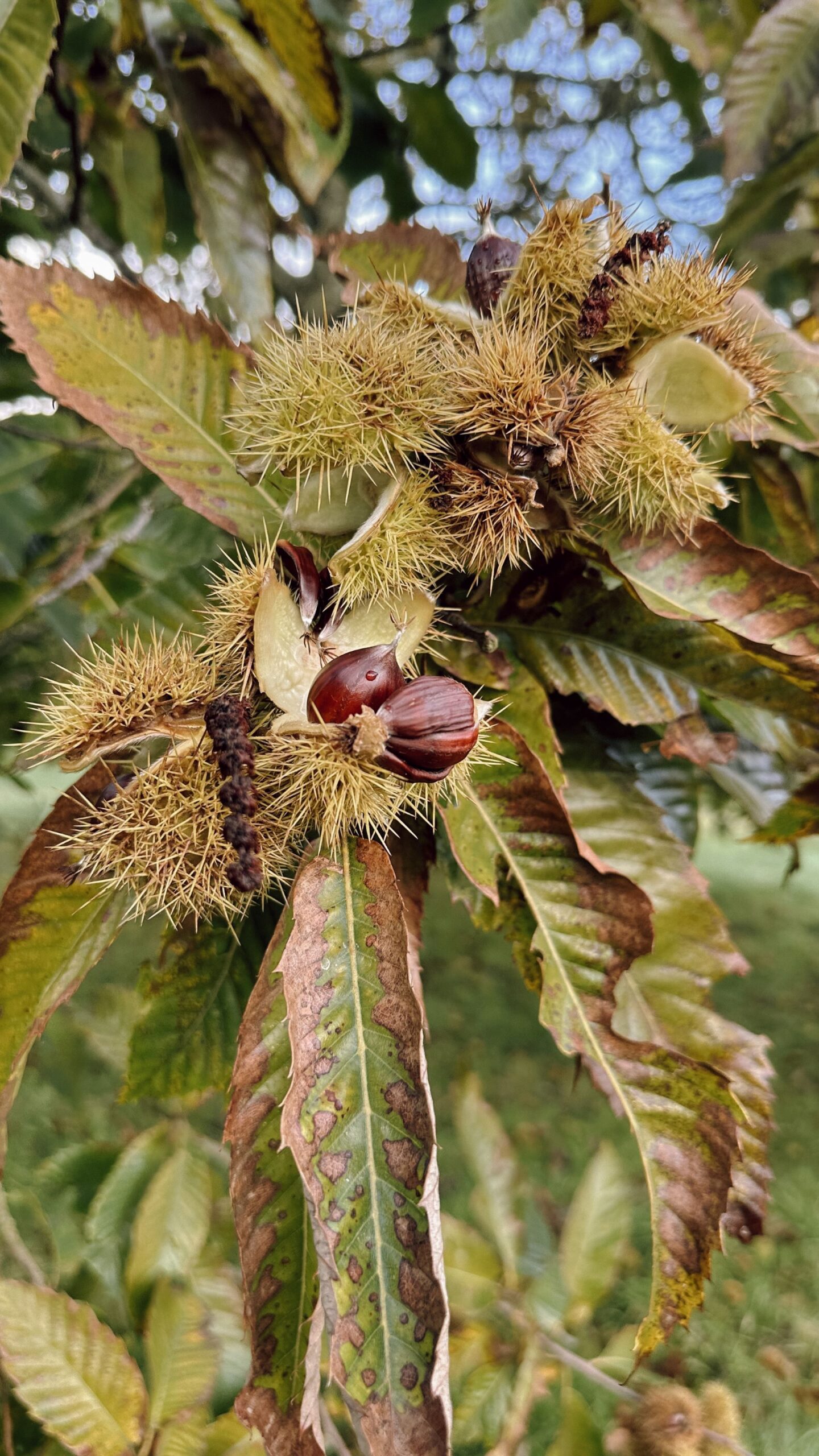 Roasting sweet chestnuts in the oven
Roasted sweet chestnuts are a little fiddly to peel, but well worth the effort. Soaking the chestnuts before roasting them in the oven is a key step to make the peeling easier. Steaming them in a tea towel after roasting and peeling while still warm will also help make the process easier. Don't forget to cut an 'X' on the outer shell/skill of each chestnut before roasting with a sharp knife, such as a pairing knife. Piercing the shell allows steam to escape and will prevent the chestnuts exploding in the oven.
Once roasted, sweet chestnuts are delicious on their own, or they can be added to a whole host of autumn and winter recipes. Try our roast chestnut and mushroom risotto recipe for a rich and comforting seasonal supper. Chestnuts can also be ground into flour.
Storing fresh chestnuts
Due to their high moisture content, raw and cooked chestnuts can spoil quickly if not refrigerated. You can keep fresh chestnuts in their shells for around a month in the fridge, or you can freeze them in their shells for around four months if hoping to use them in Christmas recipes. Roasted chestnuts will keep for a few days in the fridge.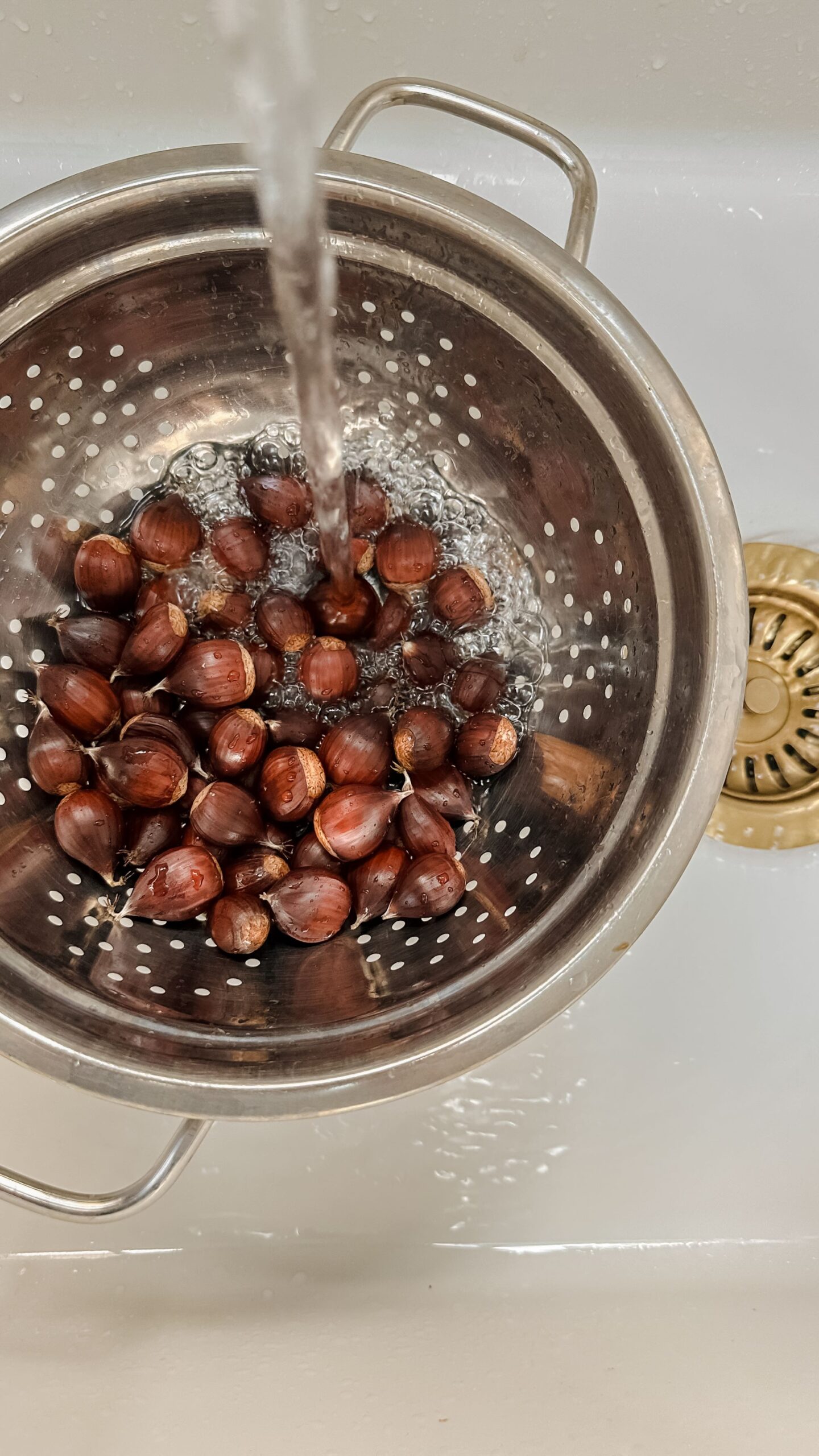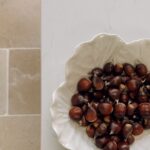 How to roast sweet chestnuts
Embrace the season with this guide to roasting foraged sweet chestnuts.
Ingredients
Fresh, foraged sweet chestnuts
Steps
Rinse the chestnuts in water and discard any that feel soft.

Carefully cut an 'x' on the domed side of each chestnut. This is a crucial step to ensure steam can escape when cooking and the chestnuts don't explode in the oven.

Soak the chestnuts in a bowl of water for one hour.

Roast at 200 degrees ℃ (fan) for around 25 minutes. Start checking at 20 minutes. The outer skin should be peeling back.

Carefully tip the chestnuts into a clean tea towel. Fold up the edges and leave to steam for ten minutes.

Crunch the chestnuts together in the folded up tea towel to start breaking the shells/skin.

Peel the chestnut skin/shell away from the inner while still warm. Take care with your hands as the chestnuts may still be quite hot. You may need a knife to help peel some of the chestnuts.
Read more: