Upcycling furniture – mending and decorating old pieces to prolong their lifespan, making them attractive or stylish once more
Giving a new lease of life to old furniture, either to your existing pieces, or bargains you've picked up online or in charity shops, is a great way to embrace slow interiors and sustainability. Solid wood furniture can easily be brought up to date, or to your own tastes, or be mended to reduce waste and save new materials. Upcycling is also a creative activity, allowing you to really put your stamp on your own space and showcase something unique.
Below we share everything you need to upcycle furniture, plus the steps to follow. Looking for some new pieces? Read our guide on where to buy second-hand furniture online, or make a day of it, and head to the best towns for antique shopping in the UK.
How to Upcycle Furniture
What You Will Need: Tools for Upcycling Furniture
An electric sander – for larger pieces or if you plan to upcycle a lot of furniture, an electric sander is a real time saver. A random orbital sander is good for flat surfaces.
120 grit sandpaper
Wood primer and undercoat
Paint – suitable for wood, such as eggshell or chalk paint (more on paint below)
Low tack masking tape
Screwdriver (type depends on the handles or hardware you need to remove)
Dust sheet
Cloth
Small brush (a dry paintbrush will work)
Vacuum cleaner (optional, but another time saver)
Paint roller
Small paintbrush
Choosing Paint for Furniture
There are plenty of paints designed for use on furniture. These are usually really matt, such as chalk paint brands. The downside to their smooth finish is that they can easily absorb water and must be protected with a sealer/top coat.
Alternatively, low sheen eggshell can work well as it's fairly durable (often used on skirting boards and woodwork). Gloss and satin are other options, but these tend to have a higher sheen. When deciding, think about how much use the furniture will be getting and if it's going to be placed in a high traffic area of the house, leaving it prone to scratches and marks. Avoid normal emulsion that you would use on walls.
Many paint brands designed for furniture will say that you don't need to sand or prime the wood, however, for really durable results, it's best to put the work in regardless.
Guide to Upcycling and Painting Furniture: Step by Step
Prep: a good finish is all in the prep, or sanding and cleaning.
Prime: give your paint something to stick to.
Paint: choosing the right type of paint is key.
Protect: an optional step to give your piece even more durability.
1. Prep
Prepare your space by putting down the dust sheet. You'll want to work in a well ventilated area, or outside. If working outdoors, ensure there is no breeze, or you may find your freshly painted furniture peppered with dirt, dust or small leaves.
Remove any handles, knobs or pulls using the screwdriver.
If the piece has drawers, remove these from the main unit.
Your paint and primer needs a key to stick to. A light sand is fine if your item isn't painted or varnished, but a heavy lacquer or old, peeling paint will need to be fully removed for a smooth finish. If you apply fresh paint over old paint or varnish that's peeling, your new coat will quickly chip and flake.
An electric sander is useful for flat surfaces, while you'll need to manually sand using sandpaper for awkward corners and edges. Avoid sandpaper with a low number (e.g. 40) as it's too coarse and could create grooves in the wood. That said, you may need a coarse grain for really thick varnish, but 120 grit normally works well.
Once your surface is sanded, remove all dirt and dust using a cloth. A dry brush can be helpful to dislodge sanding dust in edges and corners. For the inside of drawers, a vacuum cleaner can speed things up.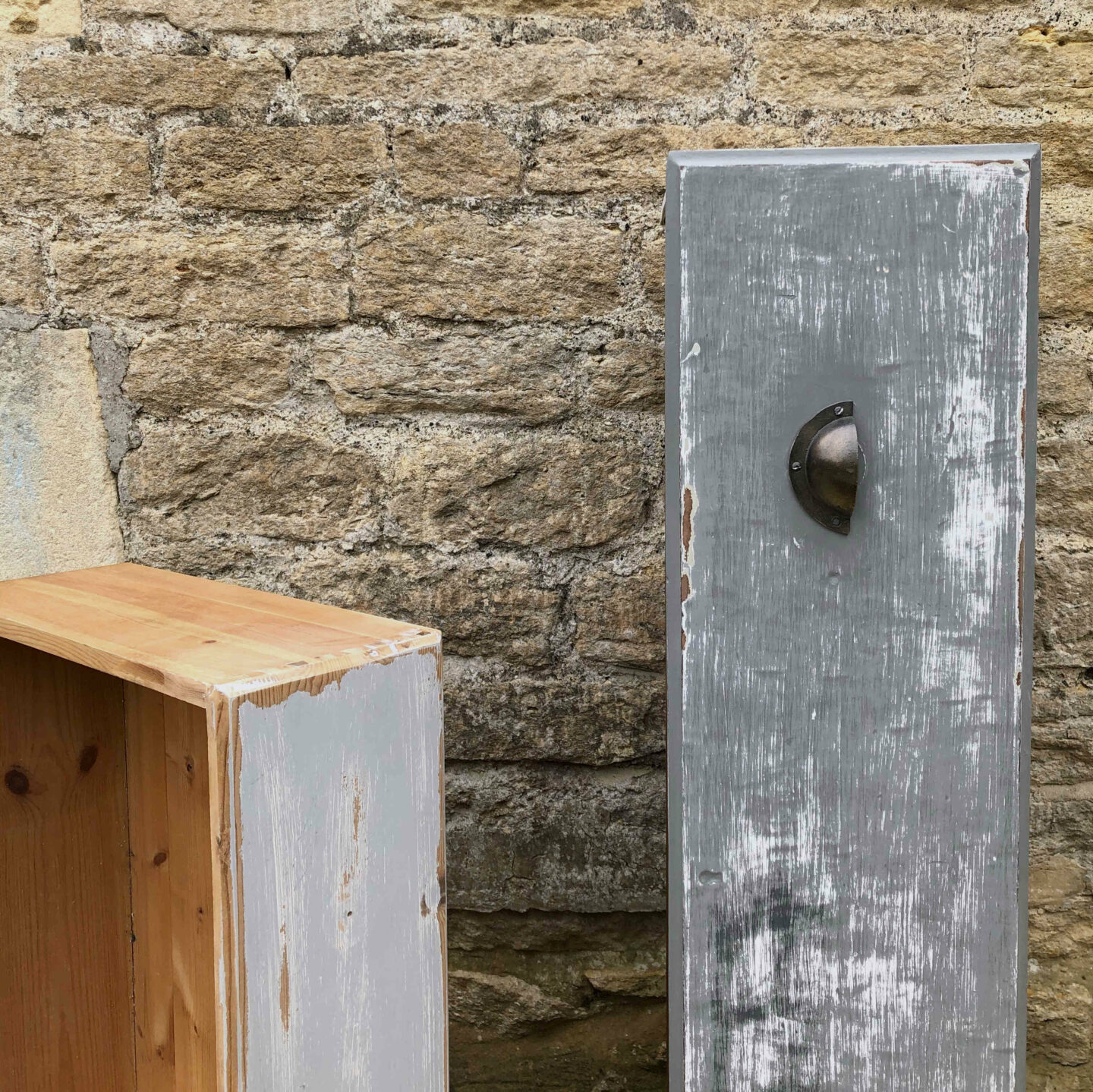 2. Prime
Save yourself some time by choosing a wood primer and undercoat in one. Although if your item has existing remnants of paint, ensure the product is suitable to cover this, otherwise look for a multi-surface primer.
Choose white/light primer and undercoat if you're painting a light colour on top, grey/dark if you're painting a darker shade as this will bring out the colour best.
Mask up any edges you don't want to get paint on, such as the inside of drawers.
Undercoat is usually runnier than paint, so take care to watch for drips and undercoat gathering in edges and corners. Use a small paintbrush for edges and a roller for flat surfaces to avoid lines.
3. Paint
Check for any drips or undercoat that has collected unevenly. You'll need to sand these down and clean away the dust before painting.
Cut in any edges using the paintbrush before rolling any flat surfaces, again taking care to avoid paint gathering in corners or any detailing.
Once completely dry, recoat.
4. Protect
If you've used chalk paint or you need an extra durable finish, you may decide to add a layer of sealer or wax to finish off your furniture. With a little care and opting for a coaster, we find eggshell paint lasts well without a sealer or top coat.
Be sure to let your piece fully dry before moving it into place.
For more interiors inspiration, you may enjoy: