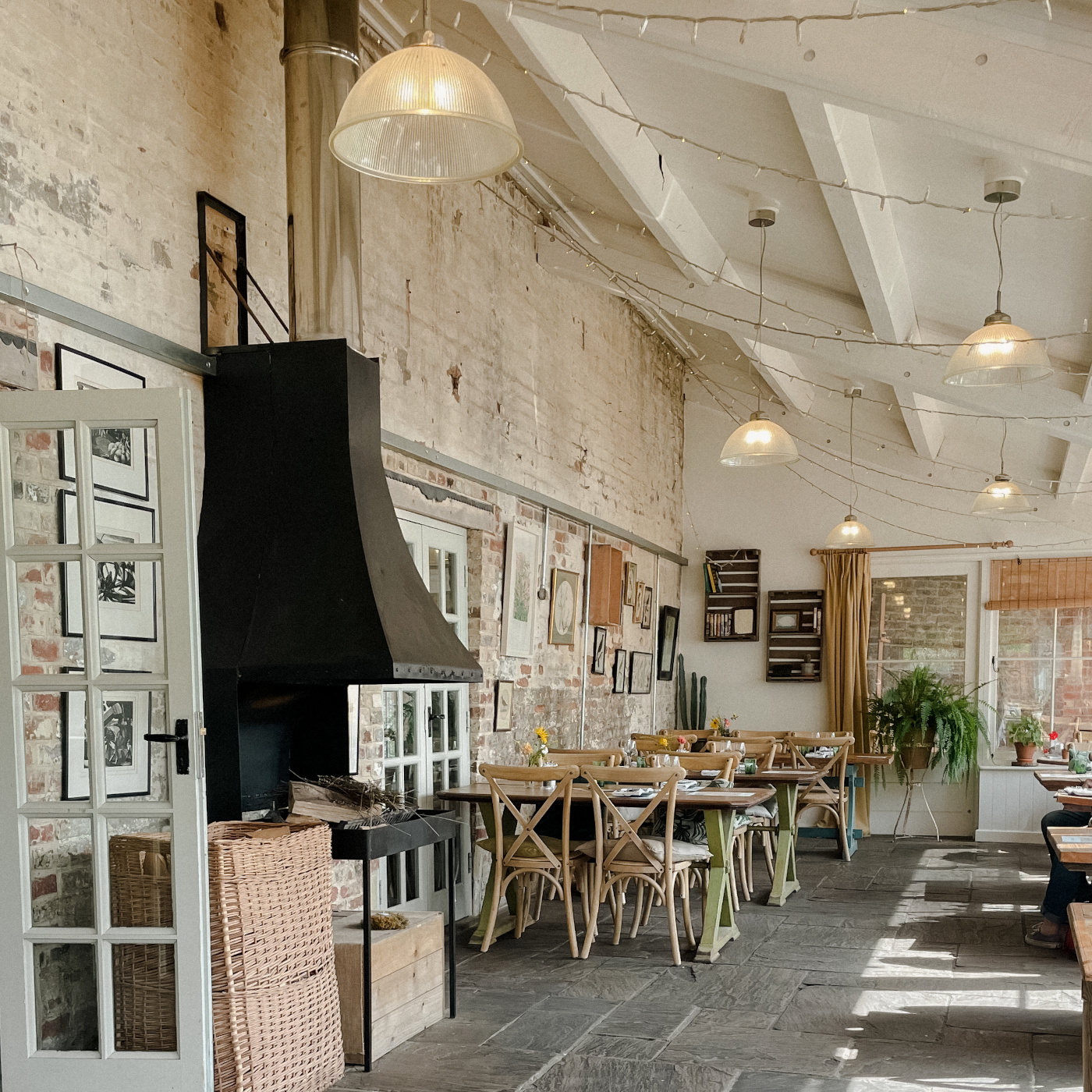 Our Slow Supper Club is a series of restaurant guides and recipes dedicated to celebrating slow food and seasonal eating. The series hopes to leave you inspired to explore the best of British produce.
Pythouse Kitchen Garden: seasonal gatherings from a Wiltshire walled garden
After a picturesque drive down winding country lanes, you'll find Pythouse Kitchen Garden tucked into a hill between the villages of Tisbury and Semley. As you enter the 18th century walled garden, you're soon met with a feeling of escapism. Your senses slowly adjust to the sights and scents of the enclosed garden which tumbles downhill before you.
Opening for lunch on Wednesday-Sunday, and for dinner on certain weekends, you'll dine in the restaurant's rustic plant-filled conservatory, or outside in the summer.
The lunch menu is exceedingly good value at £37.50 per person, including small starters, a main course 'from the fire', a selection of their 'garden gatherings' (vegetable sides dishes) and a dessert. Head gardener Annie Shutt pens her 'Tales from The Garden' which encapsulate the mood of the season and the changes taking place in the garden. These seasonal snapshots are printed on the back of the menus for diners to peruse during their meal.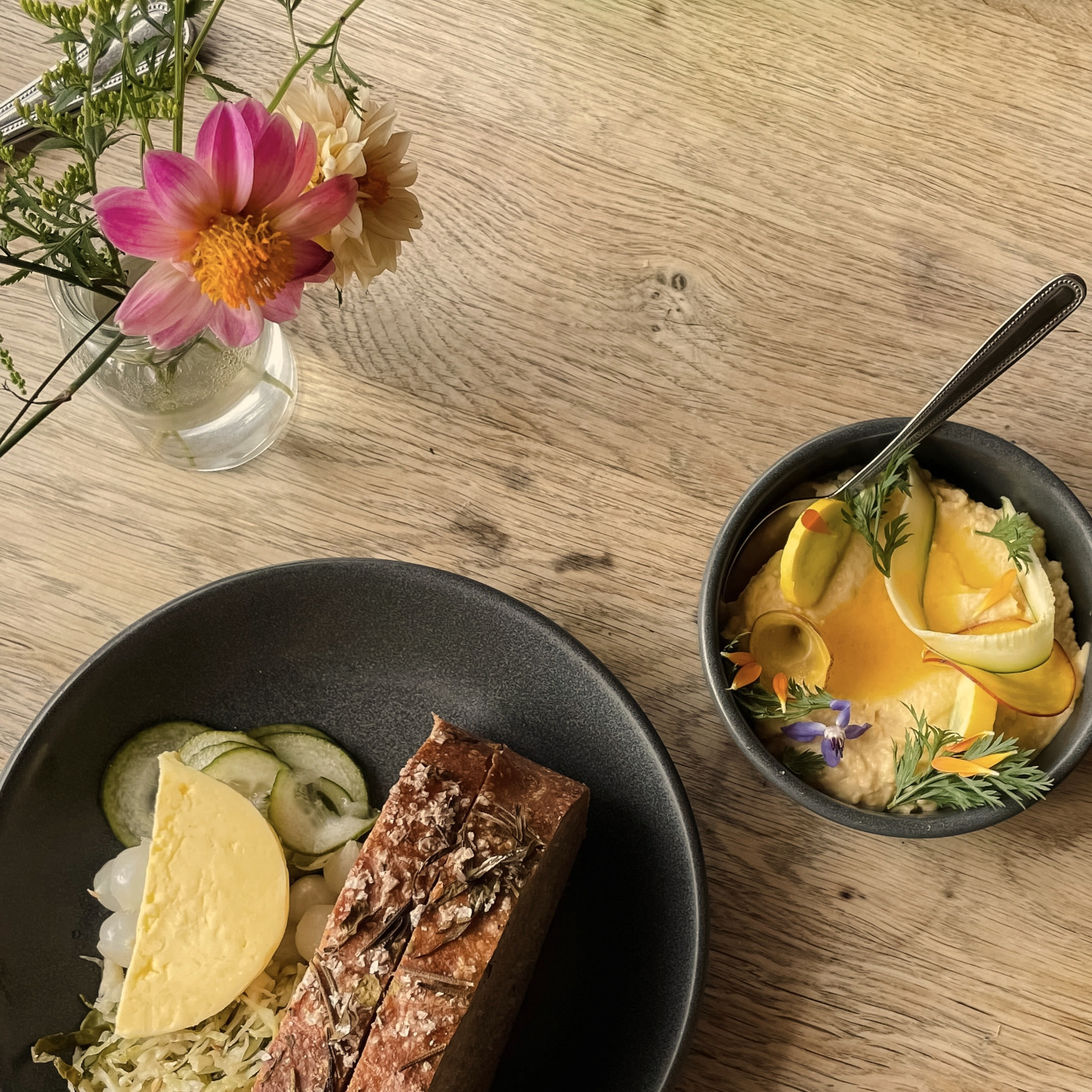 Each month, the restaurant also hosts a monthly 'feast night', or supper club, with guests sharing one long communal table and enjoying drinks and nibbles, a three-course meal and accompanying wine. Their 'Eat the Equinox' specials are dedicated to the change of the seasons and are truly memorable evenings in our experience. A beautiful setting, live acoustic music, a convivial atmosphere and inventive, seasonal dishes shared over candlelight – what's not to love?
From golden hour to candlelight at a September Eat the Equinox garden feast.
During the warmer months, you can also take a seat at the garden's 'Slow Food Kitchen', which serves up fermented sourdough 'pies', cooked and served outdoors. The sourdough bases are topped with herb-infused white sauce, seasonal vegetables and Westcountry cheeses.
Every visit to Pythouse Kitchen Garden is a celebration of the seasons, and not just because of the carefully considered seasonal dishes. Nestled in the heart of the garden is a section dedicated to cut flowers, where guests can grab a pair of secateurs and a florist's bucket and gather fresh blooms to their heart's content. If immersive experiences are very much your bag, the restaurant's chef Darren Broom also hosts 'Orchard Fire' outdoor cooking days where you can gather fresh ingredients from the garden to cook together outside.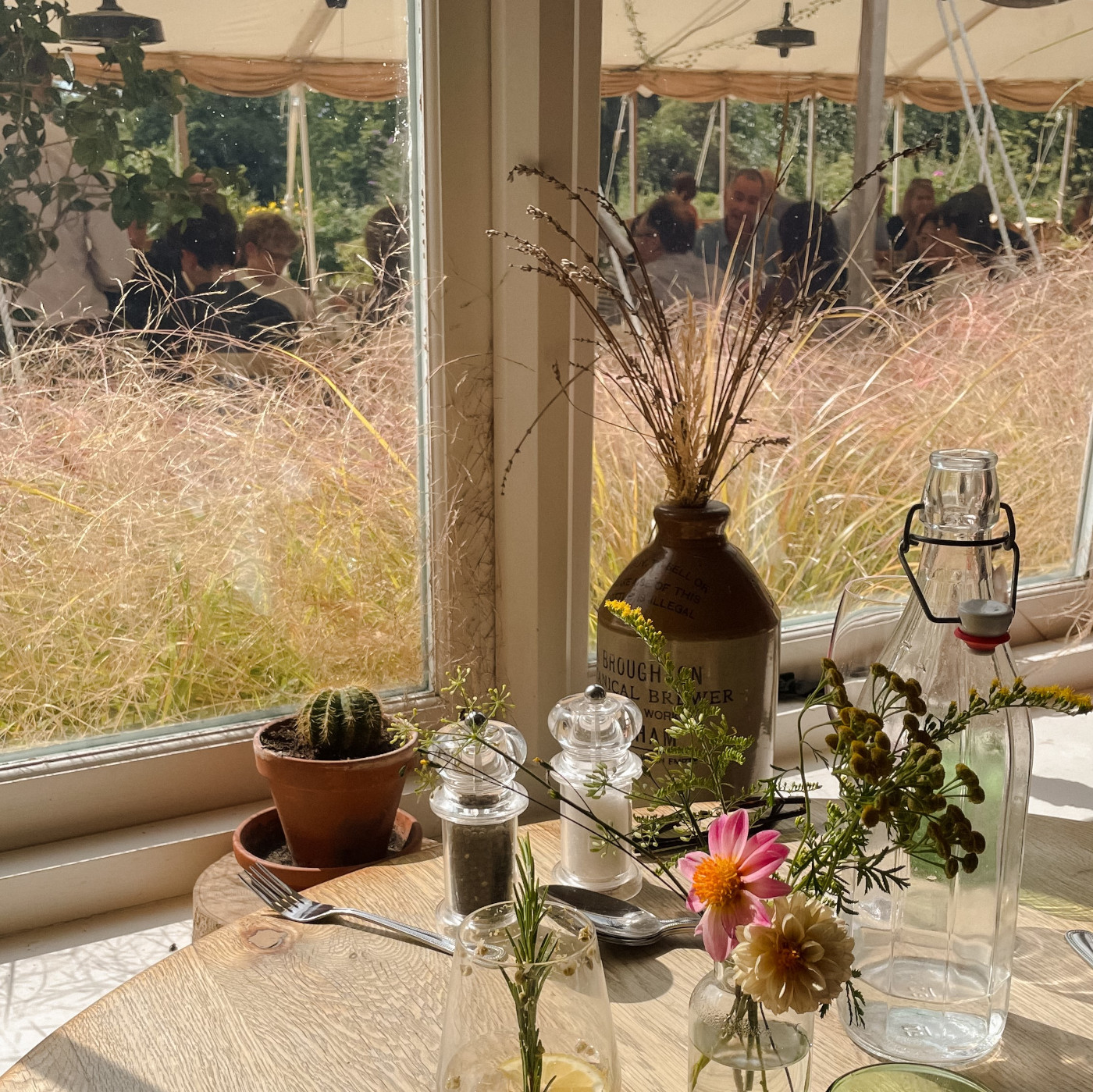 The restaurant's shop is also not to be missed. It's a source of inspiration for anyone into pickling, preserving and reducing waste. From smoked apple butter to pickled cucumbers, you can pick up a treat to enjoy later or gift to a foodie friend.
The beauty of a spot like Pythouse Kitchen Garden is that both the setting and what's being served up changes every single time you visit. We can't think of anywhere better to celebrate the micro moments of each month and season.
Make it a weekend:
Stay: Book the restaurant's charming glamping tents or shepherd's hut, or 25 minutes away you'll find The Bradley Hare, located in the Duke of Somerset's estate. This 'traditional village pub with rooms' boasts interiors designed by James Thurstan Waterworth, ex-European Design Director for Soho House.
Do: Browse the sprawling antique shops of Semley, head into Shaftesbury for a walk down the iconic Gold Hill, or discover the impressive Old Wardour Castle nestled into the Wiltshire countryside.
Pythouse Kitchen Garden, West Hatch, Tisbury, Wiltshire SP3 6PA